PHOENIX -- The future is starting to look bright.
Zack Wheeler took a scoreless effort into the seventh inning, Wilmer Flores drove in three runs and Juan Lagares homered as the Mets beat the Arizona Diamondbacks 4-1 on Saturday night at Chase Field.
Lagares went deep, and Flores drove in a run for the fourth straight game as the Mets grabbed a 2-0 lead against D-backs starter Brandon McCarthy in the fourth inning. With the Mets clinging to a one-run lead in the eighth, Flores followed a two-out intentional walk to Ike Davis with a bases-loaded two-run single to give the Mets a three-run cushion.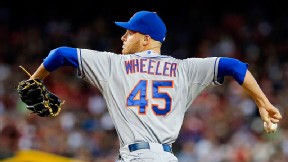 Matt York/Associated Press
Zack Wheeler took a shutout bid into the seventh inning.Flores now has eight RBIs in his first five major league games. He did depart on a double switch for the third time since his promotion, this time a half-inning after the key two-run single. Justin Turner again took over at third base.
The aged played a role in the win, too: After inheriting the bases loaded from Carlos Torres with two outs in the eighth, Pedro Feliciano struck out Gerardo Parra looking to preserve the 4-1 lead. Lefty batters are now 0-for-7 against Feliciano since the southpaw's promotion.
LaTroy Hawkins notched his third save -- his most in a season since 2009 with Houston, when he had 11.
Davis went 2-for-2 with two walks to lift his average to .203. It marks the first time this season Davis has been above the Mendoza Line. Davis doubled and scored the Mets' second run on Flores' fourth-inning single.
Wheeler's line: 6.1 IP, 5 H, 1 R, 1 ER, 0 BB, 4 K, 1 HR.
Until he surrendered a solo homer to Aaron Hill to open the bottom of the seventh on pitch No. 100, only one runner had reached scoring position against Wheeler -- when Paul Goldschmidt stole second with two outs in the first inning. Wheeler proceeded to strike out Hill in that instance.
Scott Rice inherited a runner on first base with one out from Wheeler in the seventh. The southpaw ultimately loaded the bases before retiring Adam Eaton on a grounder to preserve a 2-1 lead.
Wheeler, Flores and Lagares, meanwhile, weren't the only Mets youngsters starring Saturday evening.
In Double-A, Noah Syndergaard tossed another five scoreless innings before he was pulled after only 56 pitches to conserve his innings. Syndergaard, acquired in December with Travis d'Arnaud in the deal that sent R.A. Dickey to Toronto, has now allowed only one run and five hits in 16 innings over his past three Binghamton starts. He has struck out 16 and walked one during that stretch.
What's next: Jonathon Niese returns from the disabled list to oppose right-hander Zeke Spruill (0-1, 6.48 ERA) at 4:10 p.m. ET Sunday. Niese (3-6, 4.32), who made three minor league starts while working back from a partial rotator cuff tear, will make his first major league start since June 20.