LOS ANGELES -- The Mets, well Daniel Murphy, gave the Los Angeles Dodgers too many outs in the sixth inning.
With Jenrry Mejia cruising against the red-hot Dodgers, Murphy failed to execute consecutive makeable plays to open the frame. Los Angeles eventually posted three runs in the inning en route to a 4-2 win against the Mets on Monday night at Dodger Stadium.
L.A. improved to 38-8 since June 22 -- the franchise's best 46-game stretch in baseball's modern era.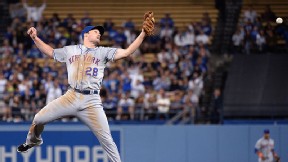 Harry How/Getty Images
Daniel Murphy's near-miss of Mark Ellis' soft liner in the sixth contributed to a three-run frame.
With the Mets leading 2-0, Carl Crawford opened the bottom of the sixth with a grounder to Murphy's right. Murphy knocked down the ball but could not handle it, on what was ruled an infield single.
Mark Ellis then produced a sinking liner that glanced off a retreating Murphy's glove and dropped into shallow right field for another hit.
Adrian Gonzalez followed with a line single over shortstop that plated Crawford. And Juan Lagares' throw back to the infield skipped past Wilmer Flores at third base for an E-8. That allowed Ellis to also race home and even the score at 2, while Gonzalez advanced to third. That put Gonzalez in position to score an unearned run and give the Dodgers the lead on Yasiel Puig's sacrifice fly.
Mejia stopped the damage there, in what became his final inning.
Mejia's line: 6 IP, 6 H, 3 R, 2 ER, 0 BB, 4 K. He threw 85 pitches (62 strikes).
The Mets chased Ricky Nolasco and eventually loaded the bases with one out the following half-inning.
On a controversial call, Ronald Belisario then struck out Juan Lagares looking at a full-count offering that plate umpire Chad Fairchild ruled was on the outside corner. With two outs, lefty Paco Rodriguez entered and coaxed Murphy into a flyout to right field as the Mets stranded three.
Nick Punto homered against Carlos Torres in the bottom of the seventh to give L.A. a 4-2 lead.
Mejia had retired the first eight Dodgers he faced, until Nolasco's single. The Cuban phenom Puig struck out twice against Mejia before the sixth-inning sacrifice fly.
The Mets had taken a 2-0 lead in the second on four straight singles, including consecutive run-scoring hits by John Buck and Omar Quintanilla against Nolasco.
Medical attention: Flores received a visit at third base from trainer Ray Ramirez and Terry Collins after advancing there on Buck's single in the second inning.
Flores remained in the game and later made a stellar diving stop toward the line to rob Mark Ellis of an extra-base hit to open the bottom of the fourth.
Viva Ike: Ike Davis reached base two more times, on a second-inning single and third-inning walk. He has reached base at least twice in each of his last 12 starts. That matches John Olerud's 1998 franchise record.
What's next: Matt Harvey Day in L.A. Harvey (9-3, 2.09 ERA) opposes left-hander Hyun-Jin Ryu (11-3, 2.99) at 10:10 p.m. ET Tuesday.