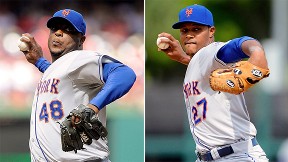 Getty Images, Associated Press
Frank Francisco threw off a mound Tuesday, while Jeurys Familia is scheduled to do so Friday.
LOS ANGELES -- Frank Francisco, who has yet to appear this season, threw off a mound in Port St. Lucie, Fla., Tuesday for the first time since receiving anti-inflammatory injections in his right elbow in mid-July.
Francisco threw only fastballs. He tossed 20 pitches.
Francisco underwent what seemed like a benign surgery on Dec. 18 to remove a bone spur from his right elbow.
Meanwhile, Jeurys Familia is due to throw off a mound Friday for the first time since undergoing surgery on June 5 to clean out his right elbow.