Right-hander Jeff Walters has produced 33 saves this season, breaking the Double-A Binghamton single-season record, which previously had been set by Jerrod Riggan with 28 in 2000.
Next up for Walters: The all-time B-Mets saves record. Tim Lavigne notched 36 saves with the B-Mets while spending parts of five seasons with the Eastern League club, from 2002 to 2008.
Walters' save total is the most in all of minor league baseball. The runner-up, Chris Hatcher, has 29 with Triple-A New Orleans (Marlins).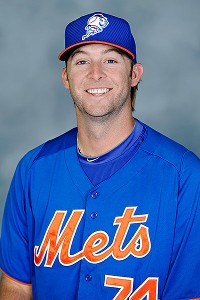 Courtesy of New York Mets
Jeff Walters
"It's been really cool," said Walters, a seventh-round pick in 2010 from the University of Georgia. "I didn't think that our team would be doing this well, either, you know? When you win 75 games this early in the season, hopefully you get a couple of cracks at some saves. But I've been fortunate to be put in that situation. We've had some tight games."
Walters actually had a streak of 20 straight save conversions snapped Tuesday night with only his third blown save of the season. He issued a walk-off wild pitch. It was his first time working in five days. The organization had backed off his usage because of a shoulder issue.
Walters' fastball sits at 93-95 mph. He has registered 97 mph a couple of times this season, but generally tops out with an occasional 96 mph. He also sports a slider (83-86 mph) and changeup (82-84 mph).
He originally served as a starting pitcher in the minors, including 14 starts for Brooklyn in 2011. He shifted to the bullpen with Savannah and St. Lucie last season, and emerged as Binghamton's closer this year.
Walters, 25, had familiarity with the relief role. He served in that capacity during most of his junior year with Georgia, before stepping in as a starter at NCAA regional time. He then settled into to a Saturday starting role his senior year with the Southeastern Conference program.
"I'd be in that situation in JUCO as well, before I had gotten to Georgia," Walters said. "I've been back and forth to both spots and am comfortable either way."
Walters has an unusual distinction. He was drafted five times before signing with the Mets.
He was selected out of high school in Orlando, Fla., by the Giants in the 24th round in 2006, by the Nationals in the 47th round out of St. Petersburg College in '07, by the Indians in the 30th round in '08 out of the same junior college, then by the Orioles in the 17th round in '09 as a junior at Georgia. With no more college eligibility, he signed with the Mets after being drafted in the seventh round his senior year.
As atypical as that is, Walters had a mentor who went through the same experience. His high school pitching coach, Randy O'Neal, also was drafted five times. O'Neal eventually signed with the Tigers as a first-round pick in 1981 out of the University of Florida.
O'Neal went on to make 142 major league appearances (46 starts) over seven major league seasons, with the Tigers, Braves, Cardinals, Phillies and Giants.
"It was awesome," Walters said about having O'Neal as a coach in high school. "I got to the point where I was learning more about the game than actual mechanics. Most of it at this point [in Double-A] for a lot of pitchers is not mechanical anymore. It's being able to understand the mental game -- what to do, when to do it, and how to accept defeat as well as how to accept when you do good. I was taught that from very early, and he has helped me with that a lot."
Next up for Walters, aside from an appearance with the B-Mets in the Eastern League playoffs? Because he was drafted in 2010 as a college senior, Walters needs to be added to the 40-man roster this offseason in order to be protected from Rule 5 draft eligibility.
The recent shoulder issue may have given the Mets too much pause for a September call-up, although it's not entirely out of the question. Pitchers who clearly should be with the Mets after rosters expand are Greg Burke, Robert Carson and mostly likely Tim Byrdak.
"I can only take care of what I do on the field," Walters said. "That's all I'm concentrating on right now is trying to finish out the season strong with this last month, and then hopefully with us going to the playoffs. And then whatever happens in the offseason happens. I'll take it whatever it is and prepare and come back next year and hopefully get a chance next year."
Organization leaders
Average: Victor Cruzado, Kingsport, .336; Jayce Boyd, St. Lucie, .329; Cesar Puello, Binghamton, .326; Yeixon Ruiz, Kingsport, .321; Wilmer Flores, Vegas, .321; Kevin Plawecki, St. Lucie, .317; Jeff McNeil, Kingsport, .314; LJ Mazzilli, Brooklyn, .303; T.J. Rivera, St. Lucie, .298; Jhoan Urena, GCL Mets, .296.
Homers: Dustin Lawley, St. Lucie, 24; Travis Taijeron, Binghamton, 20; Allan Dykstra, Binghamton, 19; Cesar Puello, Binghamton, 16; Wilmer Flores, Vegas, 15.
RBI: Dustin Lawley, St. Lucie, 88; Wilmer Flores, Vegas, 86; Jayce Boyd, St. Lucie, 76; Kevin Plawecki, St. Lucie, 74.
Steals: Darrell Ceciliani, Binghamton, 28; Cesar Puello, Binghamton, 24; Alonzo Harris, Binghamton, 22; Eudy Pina, Savannah, 18.
ERA: Rob Whalen, Kingsport, 1.72; Octavio Acosta, GCL Mets, 2.28; John Gant, Brooklyn, 2.36; Chris Flexen, Kingsport, 2.39; Noah Syndergaard, Binghamton, 2.54; Rainy Lara, St. Lucie, 2.55; Carlos Valdez, Brooklyn, 2.58; Miller Diaz, Brooklyn, 2.68; Robert Gsellman, Brooklyn, 2.69; Gabriel Ynoa, Savannah, 2.71.
Wins: Gabriel Ynoa, Savannah, 13; Rafael Montero, Vegas, 11; Matt Bowman, St. Lucie, 10; Logan Verrett, Binghamton, 10; Erik Goeddel, Binghamton, 9.
Saves: Jeff Walters, Binghamton, 33; T.J. Chism, St. Lucie, 16; Beck Wheeler, Savannah, 15; Robert Carson, Vegas,10; Bret Mitchell, St. Lucie, 10.
Strikeouts: Rafael Montero, Vegas, 126; Noah Syndergaaard, Binghamton, 118; Logan Verrett, Binghamton, 117.
Short hops
• Attempting to close out a victory for the NL in the New York-Penn League All-Star Game, Brooklyn Cyclones left-hander John Mincone surrendered two ninth-inning runs and the AL won, 4-3, in walk-off fashion. Playing in his home state, LJ Mazzilli came off the bench and went 0-for-1 with a run scored in the game at Norwich, Conn. Starter Miller Diaz allowed one run in one inning. Robert Gsellman tossed a scoreless inning, allowing one hit and striking out two.
• A pair of Mets farmhands were named their leagues' pitchers of the week.
B-Mets left-hander Mark Cohoon earned the Eastern League honor after going 2-0 and allowing one earned run in 13 innings over two starts. Cohoon, a 12th-round pick in 2008, owns the B-Mets' record for most career innings pitched (371 1/3).
Savannah right-hander Seth Lugo, a 34th-round pick in 2011 out of Centenary College in Shreveport, La., earned the South Atlantic League honor. Lugo, 23, appeared in 11 games (10 starts) after the draft with Kingsport, but did not pitch last year. He missed significant time with a back injury.
• The Mets have not yet named their Arizona Fall League contingent, but team officials indicated players who missed chunks of time during the season because of injury would be prime candidates. Fitting that criteria: Binghamton outfielder Cory Vaughn as well as right-handers Cory Mazzoni, Michael Fulmer and Hansel Robles.
• Noah Syndergaard is 5-0 with a 1.76 ERA in nine starts since a promotion to Binghamton. He has allowed 34 hits and 10 walks while striking out 54 in 46 innings.
• 2011 first-round pick Gavin Cecchini took an 11-game hitting streak into the New York-Penn League All-Star break. Cecchini lifted his season average from .214 to .282 with the surge.
• Lucas Duda's last three starts have come at first base with Las Vegas. Duda is hitting .200 (5-for-25) with one RBI and six walks in eight games since joining the 51s.