LOS ANGELES -- LaTroy Hawkins took what he labeled a "direct hit" to the groin on a comebacker from Jerry Hairston Jr. Uncomfortable, he stayed in the game and immediately served up a game-tying two-run homer to Andre Ethier in the ninth.
The Dodgers went on to beat the Mets, 5-4, in 12 innings.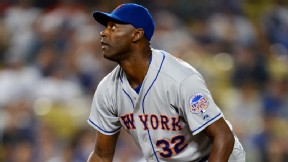 Jayne Kamin-Oncea/USA TODAY Sports
LaTroy Hawkins surrendered a ninth-inning two-run homer to Andre Ethier.
Terry Collins said he left Hawkins in the game because he was deemed capable of continuing after throwing practice pitches. As for allowing Hawkins to face the dangerous pinch-hitter Ethier, who had stellar career numbers against the 40-year-old reliever, Collins said he did not mix and match because Hawkins is his closer in Bobby Parnell's absence.
Hawkins remained highly uncomfortable after the game, wincing and pausing multiple times while standing at his locker speaking with reporters.
The 40-year-old reliever said he has never worn a cup in his lifetime.
"I have to start," he said. "I feel like I got kicked by a mule, and it hurts. … I can walk a little bit now. But at first I couldn't walk at all. A direct hit. Direct hit."
He became the second Met struck in the groin without wearing a cup this year. Jordany Valdespin was drilled with a fastball from Justin Verlander during spring training.
"When I lift my leg, I can feel my [groin] in my throat, but I thought I could get through it," Hawkins said.
As for the ensuing homer to Ethier, the next batter after getting struck, Hawkins added: "He's a major league hitter. When you throw it down the middle, he can hit it out anywhere."
Oh the pain: Dillon Gee also got banged up, when he slid headfirst completing a triple in the fourth. Collins, displeased with Gee's aggressiveness, said Gee cut his left elbow and was bleeding.
"When I hit it, as I rounded first, I saw it was over there by the wall," Gee said. "As I was getting to second, I saw he hadn't picked it up yet. So I was like, 'Well, I'll just keep going.'
"Looking back, it wasn't the smartest play probably. It was two outs. And then I make the bonehead dive into third. It was just not very smart. But really, to be honest with you, at that moment I wasn't thinking anything. I almost felt like I was a little kid again. … It hurt for a little while because I hit my stomach really hard and it knocked the breath out of me. It's a long time since I've had to slide, and it wasn't a very good one."
Gee said it did not affect his pitching performance.
"I was a little tired for a little bit, but I got over it pretty quick," he said.