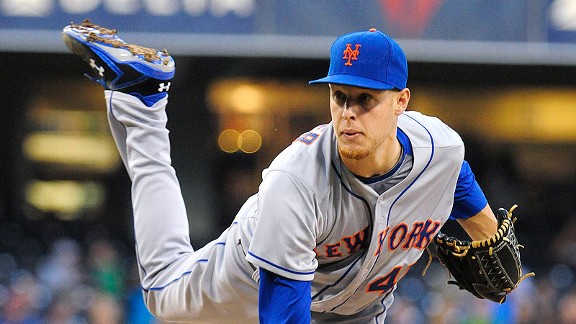 Denis Poroy/Getty Images
Zack Wheeler struck out 12 in six innings Thursday night.SAN DIEGO -- About the only problem with Zack Wheeler's performance Thursday night at Petco Park was the rookie getting carried away with his strikeout total and driving up his pitch count.
Wheeler struck out a career-high 12 while throwing 115 pitches in six innings. He surrendered only one run. The pitch count was the highest he's reached in a professional game.
"Early, I was keeping my pitch count pretty low," Wheeler said after the Mets' 4-1 victory against the San Diego Padres in the series opener. "But after the second or third inning, I got a little carried away and I was trying to strike some people out and I lost a little command of my fastball. It didn't help. My pitch count went up,and I had to work a lot more.
"You can ask any pitcher: You get that going and you're like, 'Oh, man. I can strike out a lot of guys tonight. My stuff's pretty good.' You can't get carried away. You've just got to stay aggressive, because they're going to start trying to take pitches and not strike out. So they're going to try to make you work a little bit. That's when you take advantage of that and just pound fastballs and all that kind of stuff."
Wheeler, who has now made 11 major league starts, said he trusts his pitches more now than when he debuted. Originally, he would try to make the perfect pitch. Now, he's content letting go and letting the baseball's natural movement frustrate the hitter. Wheeler has walked only one batter over his past two starts after walking five against Kansas City two starts ago and 28 overall in his first nine major league starts.
"I feel like I'm getting better every time out," Wheeler said. "It's a learning experience. That's the biggest thing. Every time out you learn something new. I didn't think I had my best stuff today. I thought I was getting underneath the ball a little bit. That's when my slider was pretty big, instead of straight down. It was effective, yeah, but not how I like it. I want it shorter and sharper. It's a learning process.
"When I first came up, I was just trying to do a little too much. 'Oh, I've got to hit the outside corner to this guy.' Or, 'I've got to throw in to this guy.' You need to just throw it inside and let your ball run and do its own thing. I don't have to make the perfect pitch with my slider every time -- just throw it and trust that it's going to break."
Of course, Wheeler benefited from the defense behind him. Eric Young Jr. reached over the left-field wall and swatted a would-be homer from Rene Rivera back into the ballpark for a triple, and Rivera was eventually stranded. Two innings later, Juan Lagares picked up his 10th outfield assist by throwing out Tyson Ross at the plate while attempting to score from second base on a single.
"Those guys in the outfield -- [Marlon] Byrd, Lagares and Young -- they go hard every single game," Wheeler said. "It makes it easy on us to have guys who play their butts off in the outfield and go full speed all the time. They aren't scared to run into the walls and stuff. I really appreciate it. I'm sure all of our pitchers do. It definitely saved a run with Young's and Lagares' [plays]. I appreciate that."