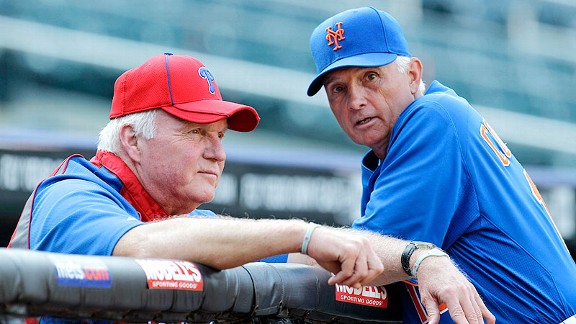 Kathy Willens/Associated Press
Terry Collins and fired Phillies manager Charlie Manuel were Triple-A teammates.SAN DIEGO --- Terry Collins said fired Philadelphia Phillies manager Charlie Manuel had a sharp intellect that was masked by his pronounced country accent. Manuel was replaced on an interim bases by Ryne Sandberg as Phillies manager on Friday.
"Charlie and I were teammates," Collins said, referring to their time with Triple-A Albuquerque. "He's one of my really closest friends. And I know he loved managing. And I know he loved managing in Philadelphia. And I feel terrible for him today.
"If you've been around Charlie, just because he's got that little accent to his vocabulary, he's one of the real sharp guys going, and is a tremendous talent evaluator. Again, masqueraded behind that country bumpkin stuff, he's real sharp. And I feel terrible for him today because, obviously, with what their success has been in recent years, he's had a lot to do with that.
"I'll tell you one thing about Charlie, he didn't mince words. He didn't try to be politically correct at any time. He said what was on his mind, and said it bluntly. I think, to be honest, some guys were offended by some things he said. But, for the most part, you knew where he stood on everything. The same way as a player. I mean, he was exactly the same way as a player. So I feel bad for him. I know it's tough for [GM] Ruben [Amaro]. But we all have things we've got to get through right now."
Collins, of course, is in the final year of his own contract. The expectation is he will be invited back for 2014.
Still, a team insider reiterated Friday to ESPNNewYork.com that while the organization has a good sense of what it plans for Collins, it will not cement any decision until after the season. With 43 games remaining, the Mets do not want to publicly resolve Collins is returning and then have an unforeseen clubhouse drama or some other event force a change in direction.