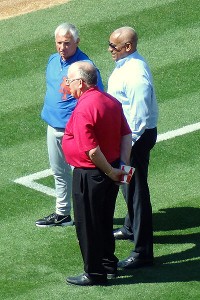 Adam Rubin
Terry Collins, Omar Minaya and Jay Horwitz catch up Friday afternoon at Petco Park.
SAN DIEGO -- Terry Collins, as well as Jay Horwitz, had a chance to chat with Omar Minaya on the field during early batting practice Friday.
Minaya, who has a been a special assistant with the San Diego Padres since being fired as GM by the Mets, was the one who originally brought Collins to Queens to serve as minor league field coordinator.
The offseason after Minaya's ouster, Sandy Alderson and crew hired Collins as manager.
"I've known the guy since he was a scout in Texas," Collins said about Minaya. "As a matter of fact, I used to really enjoy it, because when I managed in Venezuela, I used to take Texas Rangers pitchers. So he'd always come down. It was always fun to see him."