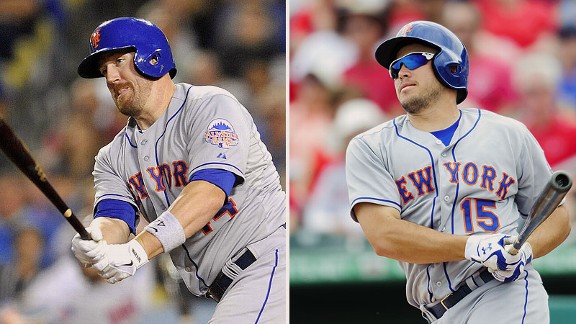 USA TODAY Sports
John Buck is departing for the birth of his son, leading to the major league debut of Travis d'Arnaud.SAN DIEGO -- The long-awaited birth of the baby Buck has arrived.
Buck received word of his wife going into labor and departed before Friday's game against the San Diego Padres. Anthony Recker has replaced Buck in the No. 7 hole in the lineup for the Mets.
More importantly for Mets fans, top catching prospect Travis d'Arnaud will be called up.
Paternity leave lasts three days, but Sandy Alderson said d'Arnaud may stay in the big leagues beyond that if he holds his own.
The Mets will not officially placed Buck on paternity leave and call up d'Arnaud until Saturday, since d'Arnaud would not be able to arrive from Salt Lake City until after 11:30 p.m. or midnight PT. That also means the paternity leave extends through Monday's game in Minnesota, so Buck does not need to rejoin the Mets until Tuesday's homestand opener in New York.
Terry Collins has indicated d'Arnaud will play while he is with the major league club. If d'Arnaud's stay lasts only three days, he would then return in September, once rosters expand.
"We're realistic, and this just could be a three-day stint, although September is just around the corner," Alderson said. "And I would certainly expect that even if he does go back to Vegas, he will be with us in September."
Andrew Brown will serve as the emergency backup to Recker on Friday night. He has been carrying equipment around and catching bullpens for a week. Brown said he caught in A-ball, but he has never appeared in an official game.
ESPNNewYork.com caught up with d'Arnaud on Wednesday. Read that feature here.