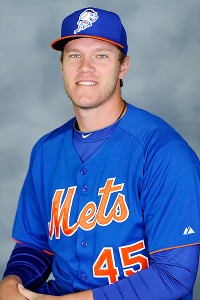 Courtesy of New York Mets
Noah Syndergaard is dominating Double-A.
SAN DIEGO -- Travis d'Arnaud isn't the only acquisition in the R.A. Dickey trade making headlines.
Right-hander Noah Syndegaard continued his demolition of Double-A competition Friday night. Syndergaard, on a tight innings count, tossed five scoreless innings for Binghamton against New Britain. He struck out 10 and walked none while surrendering three hits in a 66-pitch effort that included 48 strikes.
Syndergaard now has a 1.59 ERA in 10 starts with the B-Mets.
He has allowed only one run and eight hits in 21 innings over his past four starts. He has struck out 26 and walked two during that stretch.
Binghamton plans to skip Syndergaard's next start to keep him from hitting an innings cap before the Eastern League playoffs.