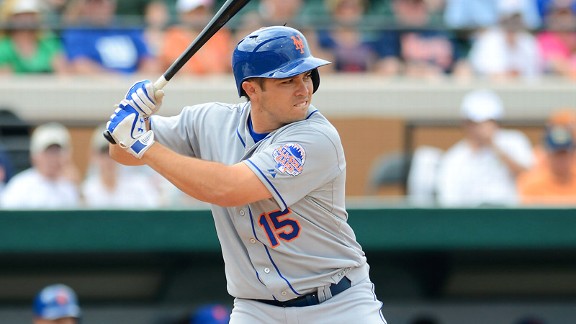 Mark Cunningham/MLB Photos/Getty Images
Travis d'Arnaud is set to make his major league debut tonight.SAN DIEGO
FIRST PITCH: Travis d'Arnaud Day!
With wife Brooke Buck going into labor and John Buck leaving the team, the prized catching prospect d'Arnaud is due to make his major league debut at 8:40 p.m. ET today as the Mets look to make it three straight wins against the San Diego Padres.
D'Arnaud hit .400 (8-for-20) with one homer, four RBIs and nine walks in seven games since rejoining Triple-A Las Vegas. He had broken the first metatarsal in his left foot on a foul ball while catching for the 51s on April 17.
Sandy Alderson suggested d'Arnaud could remain in the big leagues after Buck's three-day paternity leave expires if the prospect performs well during the cameo.
"We're all excited to see Travis," Terry Collins said. "Like a lot of these guys, there's a huge buildup taking place. Some of the reports are pretty impressive when you hear about it. So I'm anxious to see him play. Of course, he's got confidence off the charts. After he came back [from the broken foot], he's done very, very well. He's swinging the bat great. We're going to take a look at him."
D'Arnaud is due to catch Jenrry Mejia tonight. Mejia (1-2, 2.22 ERA) opposes right-hander Edinson Volquez (8-10, 5.80), who has the highest ERA among NL qualifiers.
Zack Wheeler raved late Friday about d'Arnaud's ability to make a borderline pitch look like a strike.
"He receives it unbelievably," Wheeler said. "We really didn't get to throw all that much to each other [in Las Vegas]. I think it was three or four times, or something like that. But between that and what I saw in spring training, he can make a pitch at the bottom of the knee caps look like it's on the top of the knee caps. It helps you out. He's just a good catcher."
Saturday's news reports:
• Jeremy Hefner plans to see another doctor Monday to determine if he will require Tommy John surgery. If the procedure is necessary of repair an MCL tear in his right elbow, Hefner may miss most or all of 2014. Read more in Newsday.
• Marlon Byrd, Ike Davis and Daniel Murphy homered as the Mets beat San Diego, 5-2, Friday night. Byrd produced his 19th long ball, one shy of matching his career high, which he achieved in 2009 with the Texas Rangers. Anthony Recker, whose playing time is above to nosedive with d'Arnaud's arrival, went 3-for-3 with a walk in the victory. Jonathon Niese limited San Diego to one run while logging 111 pitches in six innings.
Read game recaps in the Post, Daily News, Times, Star-Ledger, Newsday and MLB.com.
• Wilmer Flores tested his right ankle running Friday afternoon and likely is to return to the starting lineup tonight.
• Read more on d'Arnaud's arrival in the Post, Daily News, Times, Newsday and Star-Ledger.
• Collins expressed his sympathy after the firing of Phillies manager Charlie Manuel. The two played together at Triple-A Albuquerque in 1975. Collins is in the final year of his own deal.
A Mets insider affirmed to ESPNNewYork.com that nothing about Collins' fate would be announced until after the season, although internally the decision is tentatively resolved. Collins widely is expected to return for 2014. Read more on Manuel's ouster at ESPN.com.
• Jared Diamond in the Journal profiles Juan Lagares, whose 10 outfield assists already are two shy of matching the Mets' rookie record, set by Tsuyoshi Shinjo in 2001. Writes Diamond:
Right fielder Marlon Byrd compared him to 10-time Gold Glover Andruw Jones, who was famous for playing an extremely shallow center field. Because Lagares has such impressive natural instincts going back on fly balls, he is able to play shallow and still retrieve long flies with ease.
"Juan plays more shallow than any other center fielder in baseball," Byrd said. "So when he's closing on balls in front of him, he's already up closer than everyone else."
• Noah Syndergaard, who arrived with d'Arnaud and Class A outfielder Wuilmer Becerra in the R.A. Dickey trade, continues to dominate Double-A. Syndergaard tossed five scoreless innings and struck out 10 as Binghamton beat New Britain, 1-0.
"I wasn't really tallying the strikeouts I had, I was just pitching. … I just feel like I had all my pitches going for me tonight," Syndergaard told the Binghamton Press & Sun-Bulletin. "It's a lot of fun to pitch when you've got the fastball, curveball, and changeup going for you."
Also Friday: Jeyckol De Leon had four hits and three RBIs as Kingsport beat Bristol, 11-4. James Roche homered for the second straight day as Brooklyn beat Vermont, 6-4. Read the full minor league recap here.
• From the bloggers ... Faith and Fear thinks about rookies, strikeouts and pitch counts.
BIRTHDAYS: Right-hander Skip Lockwood was born on this date in 1946.
TWEET OF THE DAY:
@AdamRubinESPN Its been so long i think the baby has already hit puberty

— James Schumann (@JTSchumann) August 16, 2013
YOU'RE UP: Has your opinion of the R.A. Dickey for Travis d'Arnaud and Noah Syndergaard trade changed since last December?