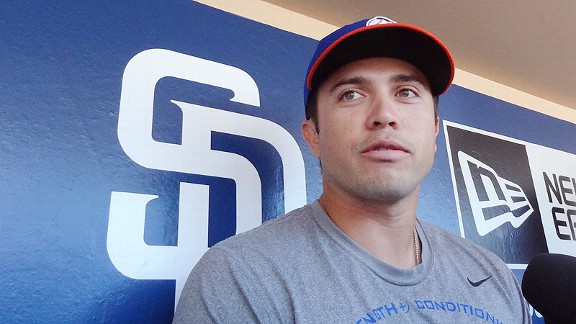 Adam Rubin
Travis d'Arnaud speaks with media Saturday before his major league debut in San Diego.SAN DIEGO -- During Grapefruit League play back in spring training, speedster Jose Constanza pinch-ran for the Atlanta Braves, prompting a mound visit by New York Mets manager Terry Collins.
"He can run," Collins warned highly regarded catching prospect Travis d'Arnaud.
"I can throw, too," d'Arnaud replied, beaming with confidence.
Five months later, the 24-year-old d'Arnaud is poised to make his major league debut for the Mets on Saturday night against the San Diego Padres.
D'Arnaud, acquired in the December trade that shipped reigning NL Cy Young winner R.A. Dickey to the Toronto Blue Jays, will catch and bat sixth for the Mets at Petco Park.
Collins reiterated he will have a chance to remain beyond John Buck's three-day paternity leave provided d'Arnaud demonstrates competency during the audition.
"We're certainly hoping he stays," Collins said. "Now is that a plan going in? No. But you've just got to hope that he's ready to show us he belongs here. I think the next three days we'll get a feel for where he's at, what we need to do and where we are with his development."
Read the full news story here.