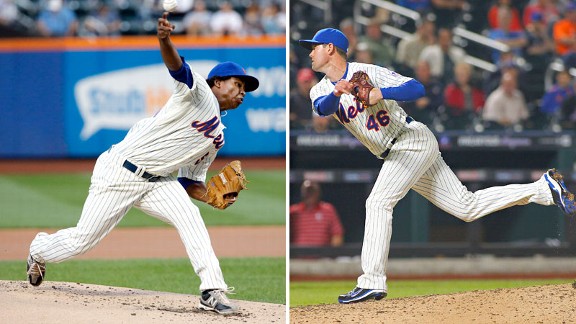 USA TODAY Sports, Getty Images
Jenrry Mejia has landed on the DL, while Greg Burke has been promoted from Las Vegas.SAN DIEGO -- After the bullpen was required to toss five innings once Jenrry Mejia departed Saturday's game with elbow discomfort, sidearm reliever Greg Burke has been promoted from Triple-A Las Vegas for bullpen duty.
Mejia has been placed on the DL. Terry Collins presumed Mejia would undergo surgery soon to remove the bone spur and miss the remainder of the season.
Collins added that the two "immediate" options are to have Carlos Torres fill in for a start Friday against the Detroit Tigers, or skip Mejia's turn because Thursday is a team off-day. In the latter scenario, however, Matt Harvey and Zack Wheeler would have to pitch on standard rest, further jeopardizing their ability to complete the season before hitting innings caps.
Collins said how much work Harvey logs today against the San Diego Padres would help determine whether Torres or Harvey faces the Tigers on Friday. Harvey otherwise would pitch Saturday.
If Torres were to start, Collins said, it would not be to complete the season. Instead, young pitchers in the minors not facing innings limits likely would be used in the rotation. That likely would be second-tier prospects, not Rafael Montero, Noah Syndergaard or Jacob deGrom -- all of whom are facing innings caps. In Montero and Syndergaard's cases, neither needs to be added to the 40-man roster this offseason, either.
On Mejia's candidacy as a 2014 rotation member, Collins said: "He's certainly a guy that deserves a legitimate look. He wouldn't be a guy that's coming to spring training to see if he's OK. He certainly threw well enough. If his arm is healthy, if he gets this done, he'll be throwing in the Dominican before spring training. I know that with what we saw, he certainly should be a guy that's in one of those top six or seven spots. That's for sure."
Read the full news story here.