SAN DIEGO -- The Mets wasted another Matt Harvey start Sunday. And afterward, Terry Collins suggested the ace must be frustrated being stuck at nine wins on the season despite a 2.25 ERA.
Harvey limited the San Diego Padres to two runs in six innings and actually was in line for the victory, but Pedro Feliciano ultimately served up a walk-off homer to Will Venable and the Mets lost, 4-3, at Petco Park.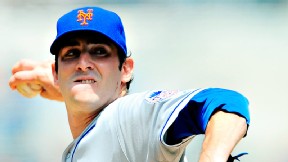 Christopher Hanewinckel/USA TODAY Sports
Matt Harvey received a no-decision Sunday despite limiting San Diego to two runs in six innings.
The Mets are now 13-12 in Harvey starts this season.
"First and foremost, he's a great teammate. And he understands his role," Collins said. "And his role is to pitch as good as he can pitch. Is he frustrated? Of course he's frustrated. He's a human being. He's a guy who wants to win. He goes out there and competes. He wants to win every game."
"That's baseball," Harvey said, while acknowledging: "It's been happening quite a bit."
Harvey departed for pinch hitter Andrew Brown in the top of the seventh after Omar Quintanilla produced a two-out double. Brown delivered a go-ahead RBI double. Collins said Harvey would have returned to the mound for the bottom of the seventh had Quintanilla not got into scoring position in the top half as the tying run.
Harvey said he perfectly understood getting pulled after six innings, but added: "Me, as a competitor, I don't like getting taken out."
One byproduct of the early exit: Because Harvey threw only 86 pitches, Collins seemed to be strongly leaning toward the ace returning Friday on standard rest to face the Detroit Tigers. Essentially, the Mets would use Thursday's team off-day to skip Jenrry Mejia's turn. Collins said the team would not commit to that plan until they see how Harvey feels the day after this start.
Harvey said his big regret was not fielding Venable's chopper in what became a two-run fifth for the Padres.
"A start like today I needed to go out and not give up runs like I did in the fifth inning," Harvey said. "If I don't do that, if I make that play in the fifth, we're up 2-1 and maybe I'm still in the ballgame. Going seven, eight, nine inning innings is ideal."
Harvey did say he finally felt "back to normal" in the sixth inning Sunday, after his mechanics got out of whack at Dodger Stadium and the issue "drifting toward the plate" continued early in this start.
As for working with Travis d'Arnaud for the first time since spring training, Harvey said: "It wasn't like a completely new person popping in there. Obviously we were not quite on the same pages. You know, [after] 25 starts in with the same guy, I knew that going in. I thought he did a great job. It's nice being able to throw that little fastball and know he can handle it very well. Overall, I thought it he did a great job."
Said d'Arnaud, contrasting catching Harvey on Sunday with spring training: "I feel like his composure is even higher. He just knows what he wants to do and he executes it."