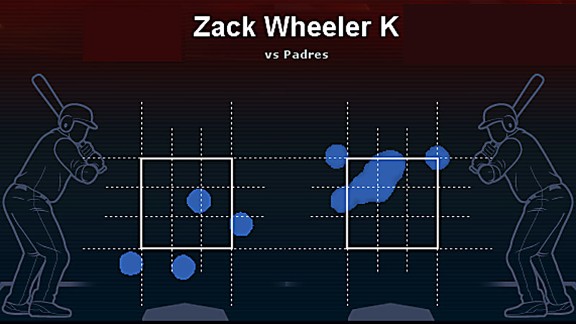 Zack Wheeler dominated lefties and righties last Thursday.
The Mets went 3-2 in the final five games of their road trip, splitting four games with the Padres and winning a makeup game in Minnesota. Here's a look at some of the statistical highlights.
Wheeler dealer
Zack Wheeler struck out 12 in Thursday's win over the Padres and a couple of regular readers chimed in with notes. My Stats & Info colleague Katie Sharp noted that Wheeler was the fourth pitcher in Mets history to have 12 or more strikeouts in a game within his first 11 appearances. The others are Nolan Ryan, Dwight Gooden and Dick Selma.
Islanders television stat guy Eric Hornick noted that at age 23, Wheeler was the youngest Mets pitcher to strike out at least 12 in a game since Gooden had 13 at age 21 in 1986.
Wheeler became the third Mets pitcher to strike out at least 12 in a game in which he pitched six innings or fewer. The other two were Ryan and Pedro Martinez, the latter coming against the Cincinnati Reds on Opening Day, 2005.
Most remarkable about Wheeler's performance was that he struck out 12 despite throwing a first-pitch strike to 11 of 25 hitters. (He was even helped by a couple of generous strike calls, according to our pitch-tracking system.)
An A for Gee
Dillon Gee pitched another gem against the Twins on Monday, allowing only one run in 7 2/3 innings, with nine strikeouts.
Gee's ERA dropped to 2.27 since May 30. As of Monday afternoon, that was fourth-best in the majors in that span, behind Jose Fernandez (1.65), David Price (1.77) and Clayton Kershaw (1.88).
Satin: All he does is hit
Josh Satin had four hits and reached base in all three games he started in the Padres series. Satin has reached base in all 28 games he's started this season. That's tied for the second-longest streak of starts safely reaching base to start a season in Mets history. (Try saying that three times fast.)
The longest streak to start a season is 57 games by John Olerud in 1999. Olerud (1998) and Kevin Elster (1991) share the second-longest streak with Satin.
Juan-derful
Juan Lagares had a great game on the defensive side in Target Field with a couple of nifty catches, one of which should be under strong consideration for a No. 1 Web Gem from Baseball Tonight. The Mets entered Monday with the most No. 1 Web Gems of any team with nine.
Lagares, with 20, ranks second among major-league center fielders in Defensive Runs Saved. That measures ability to turn batted balls into outs and the deterrent value of throwing arms. Only former Mets outfielder Carlos Gomez has more (27).
Byrd on Target
Marlon Byrd's ninth-inning home run was calculated at 427 feet by the ESPN Hit Tracker Online crew. They noted that Byrd had a 437-foot home run at Target Field on April 13, and now has two of the six longest home runs at that ballpark this season.
d'Arnaud with a careful eye
Travis d'Arnaud does not have a hit in the first three games of his career, but does have five walks after drawing at least one in each of his first three games.