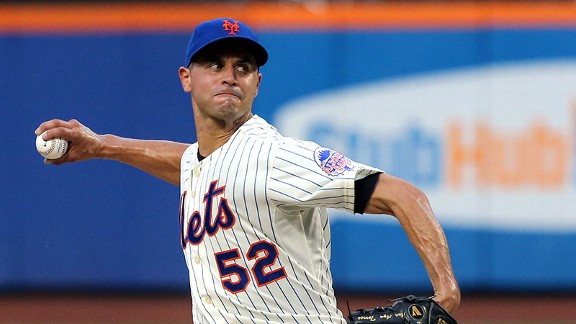 Anthony Gruppuso/USA TODAY Sports
Carlos Torres will be used as a starter again Friday with Jenrry Mejia on the DL.In the end, the Mets went with the familiar for Friday's start. Carlos Torres will get the nod against the Detroit Tigers in the series opener at Citi Field.
The Mets had said pregame that Matt Harvey would remain on Saturday, pitching with an extra day of rest.
The Mets went that direction and returned Torres to starting from the bullpen over dipping into Triple-A, where prospect Jacob deGrom has an innings cap and the other considerations are more journeymen.
So the projected weekend matchups against the Tigers:
Friday: Torres vs. Doug Fister
Saturday: Harvey vs. Max Scherzer
Sunday: Dillon Gee vs. Rick Porcello