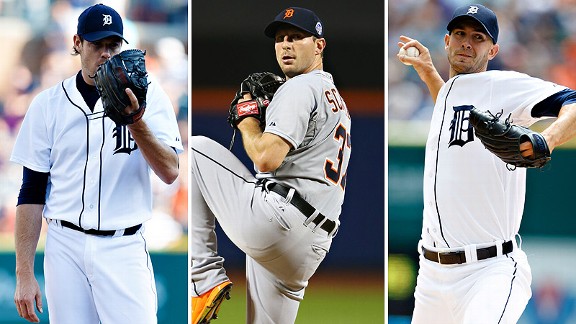 USA TODAY Sports
The Mets face Doug Fister, Max Scherzer and Rick Porcello this weekend at Citi Field.METS (58-67, third place/NL East) vs. DETROIT TIGERS (74-52*, first place/AL Central)
Friday: RHP Daisuke Matsuzaka (5-8, 3.92 at Triple-A Columbus) vs. RHP Doug Fister (10-6, 3.63), 7:10 p.m. ET
Saturday: RHP Matt Harvey (9-4, 2.25) vs. RHP Max Scherzer (18-1, 2.82), 4:05 p.m. ET
Sunday: RHP Dillon Gee (9-8, 3.60) vs. RHP Rick Porcello (9-7, 4.52), 1:10 p.m. ET
* plays Thursday vs. Minnesota
Tigers short hops
• Max Scherzer and Roger Clemens are the only pitchers since 1919 with 18 wins in their first 19 decisions of a season as a starting pitcher, according to STATS. Clemens went on to go 20-3 with the Yankees in 2001.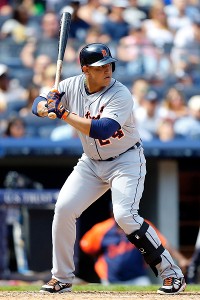 Jim McIsaac/Getty Images
Miguel Cabrera is hitting .358 with 40 homers.
• Miguel Cabrera leads the American League in batting average (.358), RBIs (123) and on-base percentage (.449) and ranks second in homers (40). The Tigers appeared to dodge an injury bullet with Cabrera, who winced swinging at a slider during a game-ending at-bat on Tuesday night. The slugger has dealt with an abdominal strain for a month.
• Designated hitter Victor Martinez has been working out in catching gear of late in preparation for potentially playing a game behind the plate this weekend in the NL ballpark. Martinez last caught in 2011, when he started 26 games. Alex Avila has been on the DL since Aug. 11 with a concussion and is just due to begin a rehab assignment. Backup Brayan Pena injured a toe fouling a ball off his right foot Tuesday. Bryan Holaday started Wednesday's game against the Minnesota Twins. Detroit has allowed 16 straight steals, the longest active streak in the majors, according to STATS.
• The Tigers acquired rookie Jose Iglesias from the Boston Red Sox on July 30 to man shortstop in anticipation of losing Jhonny Peralta to a Biogenesis-related suspension. The three-team deal sent Jake Peavy from the Chicago White Sox to Boston. Peralta will be eligible to return from a 50-game suspension with three games remaining in the season.
• First baseman Prince Fielder ranks fifth in the AL with 87 RBIs.
• Outfielder Matt Tuiasosopo played for the Mets last season, at Triple-A Buffalo. Wally Backman advocated a September call-up for Tuiasosopo, but the Mets instead selected Fred Lewis. Tuiasosopo is the younger brother of former University of Washington football players Marques and Zach Tuiasosopo. Marques went on to attempt 90 passes for the Oakland Raiders from 2001-08 and also belonged to the Jets. Their father, Manu, played for the Seattle Seahawks.
• Second baseman Omar Infante is hitting .323 (10-for-31) since returning from the disabled list Aug. 12. He missed more than five weeks with a left ankle injury. Infante departed last Saturday's game with lower-back stiffness and a tight quadriceps, but returned to the lineup Tuesday.
• The Tigers released former closer Jose Valverde from Triple-A Toledo on Aug. 7. Valverde had been 0-1 with a 5.59 ERA and had nine saves in 12 chances earlier this season at the major league level before he was designated for assignment on June 21. He subsequently had accepted a minor league assignment. Joaquin Benoit has 14 saves as well as a 2-0 record and 1.21 ERA in his past 30 appearances. He has not blown a save chance this season.
• Detroit bolstered its bullpen by acquiring Jose Veras from the Houston Astros on July 29.
• Rick Porcello is a product of Seton Hall Prep in West Orange. He hails from Chester, N.J. Porcello is coming off an outing in which he allowed five runs in 4 1/3 innings against the Minnesota Twins.