NEW YORK -- What does Sandy Alderson remember about Daisuke Matsuzaka's move from Japan to Major League Baseball for the 2007 season?
"Besides his price tag?" the GM quipped, referring to the $103 million outlay by the Boston Red Sox between the posting fee to the Seibu Lions and Matsuzaka's salary over six years. "It's hard to remember anything else."
Matsuzaka's price tag came considerably cheaper to the Mets, who are committed to him through only the end of this season.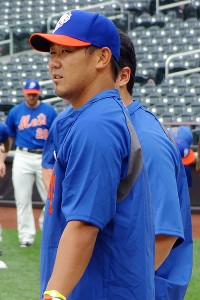 Adam Rubin
Daisuke Matsuzaka participated with other Mets pitchers in bunting practice on Friday afternoon at Citi Field.
Alderson said the motivation for signing Matsuzaka on Thursday was three-fold:
• The Mets needed a starter for the rest of the season with Jeremy Hefner and Jenrry Mejia both lost due to elbow injuries.
• Team officials are averse to promoting a young pitcher such as Jacob deGrom or Rafael Montero, since both are facing innings caps.
• The Mets did not want to disrupt their minor league affiliates -- many of which are headed to the postseason.
"Obviously this started with the injuries to Mejia and Hefner, which left us not only without a six-man rotation, but without a five-man rotation," Alderson said Friday afternoon, hours before Matsuzaka's scheduled Mets debut against the Detroit Tigers. "When it became necessary to fill that fifth spot, we looked internally and really were faced with the fact that we have a number of young pitchers we feel would do a nice job for us, but they are running up against inning limits. And even in cases where we would maybe get a couple of starts out of someone, we were a little reluctant to bring them to the major league level, and maybe overthrow, overexert and at the tail end of their innings quota come down with an injury.
"The other factor was that we've got five teams, six teams in pennant races at the minor-league level. As a secondary consideration, we want to do as little as possible to disrupt those teams.
"Fortuitously, Daisuke became available through an opt-out clause with Cleveland. We talked to his agent. He had pitched very well in his recent outings. And he, with a little bit of a nudge because this is pitching on three days' rest this time, fits nicely into our rotation. And so we're happy to have him. It fills a need for us between now and the end of the season."
Terry Collins expects Matsuzaka will be available for 85 to 90 pitches on Friday night after throwing 85 pitches Monday with Triple-A Columbus.
Collins described it as a "surprise" when he learned of the imminent signing Thursday. He expected Carlos Torres to complete the season in the rotation. And, if Torres stumbled or someone otherwise was needed to plug a hole, Collins expected a Triple-A pitcher such as Chris Schwinden would be promoted.
As for preferring Matsuzaka to Torres in the rotation, Alderson said: "Carlos has done a very nice job for us in the pen. We felt strongly about keeping him there if we could. So this is not about being unhappy with Carlos. This is about Carlos being a very important part of our bullpen. And doing anything to pull him out of that and put him in the rotation was going to weaken us, we felt, in the pen."
Alderson said the Mets did not specifically assign a scout to watch Matsuzaka in advance of the Japanese right-hander opting out of his contract after Monday's Triple-A outing.
The GM noted Matsuzaka's contract expires after the 2013 season with no option for next year.
Still, you cannot completely exclude the possibility of Matsuzaka's Mets cameo setting up a return in 2014.
Are the Mets planning to sign a veteran starting pitcher this offseason -- Matsuzaka or otherwise -- to round out the rotation, especially if Hefner will miss 2014 recovering from Tommy John surgery?
Alderson did not indicate with clarity whether the Mets would need another external arm to pair with Matt Harvey, Jonathon Niese, Zack Wheeler and Dillon Gee.
"It's always a possibility," Alderson said about a veteran signing. "We could go into next season with what we have both here and at the minor league level and I think feel confident with that. On the other hand, it's always nice to have a veteran presence. But, again, this was not done with 2014 in mind. This was about creating the right situation for the rest of our rotation this season and being as competitive as we can in those games that he'll pitch.
"The velocity may not be there, but he's a professional pitcher -- very experienced, very accomplished," Alderson said. "We think he was our best option."