NEW YORK -- Daisuke Matsuzaka did not have a charmed Mets debut. Not even semicharmed.
Matsuzaka surrendered homers to Torii Hunter and Miguel Cabrera before retiring the final 10 batters he faced. The Mets ultimately lost 6-1 to the Detroit Tigers on Friday night at Citi Field in the opener to their interleague series.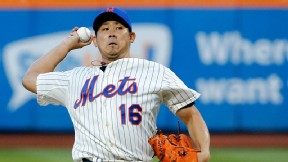 Anthony Gruppuso/USA TODAY Sports
Daisuke Matsuzaka allowed five runs in five innings in his Mets debut.
Matsuzaka's line: 5 IP, 6 H, 5 R, 5 ER, 1 BB, 4 K, 2 HR. Working on short rest after pitching for Triple-A Columbus on Monday, he threw 86 pitches.
The Tigers grabbed a 5-1 lead in the second on Cabrera's three-run homer. Cabrera is now 6-for-12 with two homers, six RBIs and two walks in his career against Matsuzaka.
Austin Jackson added a solo homer in the seventh against Carlos Torres, who tossed two relief innings after getting displaced from the start by Matsuzaka's addition.
The Mets' lone run in 6 1/3 innings against Tigers starter Doug Fister came in the opening frame, on Marlon Byrd's RBI single.
With Hiroki Kuroda starting for the Yankees at Tampa Bay, it marked the first time both New York teams started Japanese-born pitchers on the same date since Sept. 11, 1999. That day, the Yankees started Hideki Irabu and the Mets started Masato Yoshii.
What's next: For the first time in major league history, the All-Star Game starters also square off during that same regular season. Matt Harvey (9-4, 2.25 ERA) opposes right-hander Max Scherzer (18-1, 2.82) at 4:05 p.m. ET Saturday.