NEW YORK -- Matt Harvey minced no words in his postgame interview, after allowing a career-high 13 hits, albeit while surrendering only two runs in 6 2/3 innings against the Detroit Tigers.
Harvey described his outing as "crappy." He then went on to acknowledge the workload in his first full major league season has left him tired and has affected the sharpness of his pitches.
"Obviously giving up 13 hits is not ideal as a starting pitcher for anybody," Harvey said after the Mets' 3-0 loss Saturday at Citi Field. "I was not happy about giving up runs and gave up too many hits. It was just a poor performance."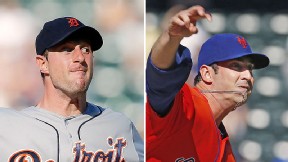 Getty Images, Associated Press
Max Scherzer outdueled Matt Harvey, who is feeling the effects of pitching deep into a major league season.
Terry Collins has noted, even with an innings cap, it is important for Harvey to pitch deep into September this year in order to get his body acclimated to that workload for future seasons when the Mets are playing meaningful games late in the year.
"I'm getting pretty tired, but so is everybody," Harvey said. "You have to work through it and you have to deal with it. It's a long season. You have to figure out how to get things done. My performance the last couple of starts has been pretty terrible. I've got to work through it and get better. ... Today, I couldn't a throw a slider for a strike. I couldn't really throw it that well at all. It's a pitch that I need. The last couple of starts I haven't had it. ...
"I figure everybody is going to go through a stretch there where you've got to battle through some fatigue and some discomfort. It's a long season -- 162 games -- and you've got to push through it. Right now I'm not doing a good job of doing that, and we've got to figure something out. The last couple of starts it's been tough getting out there and getting things going. But, like I said, I'm doing a poor job of pushing through it.
"Everything is a learning process. I've never been through this before. So, obviously, paying attention to it and figuring out ways to move past it is all part of learning and growing as a ballplayer."
Still, Harvey easily could have a better record than 9-5 with more run support. In the 17 starts in which Harvey has failed to get a win, the Mets have averaged 1.71 runs per game with him on the mound and 2.59 runs per game overall.
"Matt's a competitor," Collins said. "He's not going to give in. He's not going to let down at all or get frustrated. He's going to battle you to the last pitch he throws. What we saw today is a guy who is working as hard as he can, but you're seeing the effects of his first full season up here, where it's a grind. He's doing the best he can. He battled very, very well. He kept us in the game, like we expected him to, and gave us a chance."
On how the fatigue is manifesting itself on the mound, Collins added: "A couple of hanging sliders that he doesn't usually do. The changeup wasn't as effective early in the game as it normally is. The first inning he hung a slider to somebody that's just so uncharacteristic of him, especially early in the game, when he's got all the energy going."