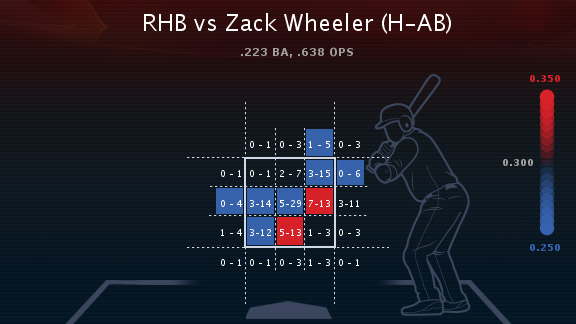 Zack Wheeler's performance has been trending in a positive direction the last few times out, and he'll look to keep that going against the Phillies tonight.
We've analyzed Wheeler in a few different ways and we thought we'd take another shot at it today by looking specifically at his work against right-handed hitters and left-handed hitters.
What to Watch vs RHB: Slider is getting better
Wheeler's work against right-handed hitters has been good, bordering on really good.
Right-handed hitters have a batting average/on-base-percentage/slugging percentage slashline of .223/.287/.350 against him.
RHB vs Zack Wheeler's Slider
2013 Season
Those numbers rank in the top 10 percent of right-handed pitchers who have made at least 10 starts this season.
The key to that is that Wheeler's fastball has been dominant. He gets misses on 22 percent of swings from right-handed hitters, well above the big-league average of 15 percent for a right-handed starting pitcher.
But also worth keeping an eye on is Wheeler's slider.
Wheeler's slider has looked better the last three starts than it did over the first nine.
Wheeler has thrown 188 of them in all, with 158 being to righties.
The chart on the right shows the difference in performance for the pitch against right-handed hitters.
Wheeler's slider isn't one that has a frisbee style swerve to it. It's more along the lines of a harder, tighter slider, one that he can throw to a number of different areas.
And to a number of different hitters, as we explain below.
What to watch vs LHB: More sliders to come?
One area that the Mets are almost certainly looking for Wheeler to improve upon is his performance against left-handed hitters.
Lefties are hitting .279 with a .389 on-base percentage and .471 slugging percentage, with five homers and five doubles in 104 at-bats against Wheeler. He's also walked 20 (two intentional) against 24 strikeouts, the latter of which is only 21 if you take pitchers out of the mix.
All three of those slashline stats rank in the bottom-third of the 117 right-handed pitchers who have made at least 10 starts this season. The .389 on-base percentage ranks eight-worst among that group.
Against right-handed hitters, Wheeler's fastball is tough to hit and his slider is gradually coming into form as an effective secondary pitch.
But against lefties, the fastball isn't as effective, and Wheeler has yet to find a solid secondary option.
Wheeler's curveball was expected to be his key pitch versus lefties, but it has not been so far, as the chart on the right shows.
Wheeler has also thrown only 22 of 41 changeups for strikes to lefties and the pitch has resulted in more hits and walks (five) than outs (four).
One option that has appeared the last two games is the slider, which Wheeler initially was reluctant to throw to lefties. But after throwing it 16 times in his first 10 games, he's made it a two-strike option, throwing it nine times against the Padres and five against the Braves.
That netted him four outs, among them Chase Headley, Brian McCann and Jason Heyward. Though you may recall in Wheeler's last start that he walked Heyward on a 3-2 slider on the last pitch of his last start.
But Wheeler noted afterwards that was the pitch he wanted to go with in that spot -- he shook off a fastball call from Travis D'Arnaud to throw it.
We'll see what his confidence level is in that pitch tonight against a lineup that will feature lefties Jimmy Rollins and Chase Utley at the top.