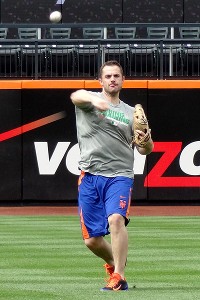 Adam Rubin
David Wright recently has started limited baseball activity at Citi Field.
NEW YORK -- Injured Mets third baseman David Wright (strained right hamstring) will head to Port St. Lucie, Fla., on Thursday to ramp up baseball activities, a source told ESPNNewYork.com.
Mets manager Terry Collins recently said he expected Wright would leave by Tuesday or Wednesday, but the third baseman still has a few more things to do before departing.
Wright recently started baseball activities, taking some groundballs and running in the outfield at Citi Field. He said last week that he first wanted to get in work with the Mets medical staff before making the trek to the team's Florida complex, where he would further his baseball activities.
Wright has not played since suffering a Grade 2 right hamstring strain against the Royals on Aug. 2. He recently said that he plans to return this season, although he's not sure when he will be back. He's missed the team's last 21 games, and they are 9-12 without him entering Monday's game against Philadelphia.
"I don't think in my mind there's any question," Wright said on Aug. 20 about returning. "It's actually probably a good thing, but the medical staff doesn't really give me too much of an outlying plan; that's really day by day. Again, much to my disagreement 'cause I like to plan things out and know where I'm going to be."