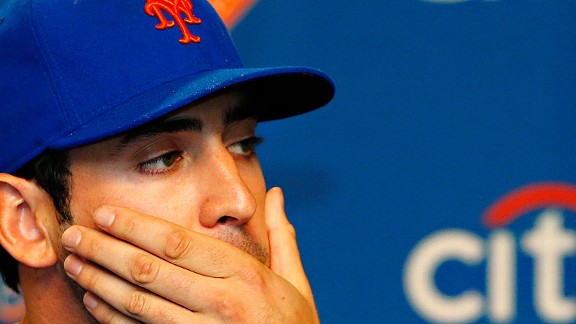 Rich Schultz/Getty Images
Matt Harvey may be lost for the 2014 season with a torn UCL in his right elbow.NEW YORK
FIRST PITCH: The Mets had waited for three years for contracts to expire, and presumably now are poised to reenter free agency in a meaningful way at a time when the young nucleus of starting pitching is ready to contribute.
But the optimism about 2014 being the year the Mets announce their return to contention has been tempered by this sobering news: An MRI on Monday revealed Matt Harvey has a partially torn ulnar collateral ligament in his right elbow.
Harvey will wait two to three weeks for inflammation to subside before making a decision, but there is a distinct possibility the ace will require Tommy John surgery that would prompt him to miss most, if not all, of next season as well.
Harvey acknowledged he had been seeking treatment for forearm tightness for a month or two. Sandy Alderson indicated the organization had been satisfied the elbow ligaments were structurally sound. The GM described the injury as somewhat inevitable, suggesting even with innings caps and prudence "there's no safe harbor" to prevent ligament tears.
Terry Collins had expressed concern throughout the season that Harvey's full-throttle, upper-90s fastball from wire-to-wire during outings might end up costly. The manager had implored the ace to dial it back at points during games and be content with coaxing groundouts with low-90s fastballs.
So now what? Certainly resources that could have gone to bats during the offseason might need to be diverted to signing another starting pitcher. Or, perhaps, a young pitcher the Mets might have entertained trading for a bat now must be retained because of the potential loss of Harvey for the entire 2014 season.
According to J.B. Kurtz of ESPN Stats & Information, four pitchers since 2010 have landed on the disabled list with some type of UCL tear: Jose Contreras, Danny Duffy, Jorge De La Rosa and Stephen Strasburg. The quickest to return to major league action was Contreras. His absence: 11 months, 3 days.
Harvey's 0.93 WHIP would rank second in major history for an age 24 or younger season in the live-ball era (since 1920), according to ESPN Stats & Information. The only better: Denny McLain, who had a 0.91 WHIP while winning the Cy Young in 1968. Nos. 3, 4 and 5 also won Cy Youngs: Vida Blue (0.95, 1971), Roger Clemens (0.97, 1986) and Dwight Gooden (0.97, 1985). McLain, Blue and Clemens also were named league MVP.
Harvey's 95.8 mph average fastball velocity ranks first in the majors, as does his 89.7 mph slider.
For now, Carlos Torres steps into the rotation, beginning with Harvey's next turn, in Thursday's matinee series finale against the Philadelphia Phillies.
Tonight, Jonathon Niese (5-6, 4.03 ERA) opposes right-hander Kyle Kendrick (10-10, 4.51) at 7:10 in Game 2 of the four-game series.
Stayed tuned for more news, too. Sources said the Mets plan to promote Robert Carson, Matt den Dekker and possibly Anthony Recker today. Since only Harvey is known headed to the DL, a trade appears looming.
Tuesday's news reports:
• Columnist Ian O'Connor at ESPNNewYork.com writes about his wife's reaction to the Harvey news.
Writes columnist Bob Klapisch in the Record:
There are a million questions trailing in his wake, starting with the Mets' passive response to the lingering forearm tightness Harvey had been experiencing since July. Warrior that he is, Harvey downplayed the discomfort, telling his bosses it was nothing unusual, nothing more than the cost of doing business with nuclear heat.
But given the Mets' abysmal record of managing injuries, why weren't they proactive when it was clear Harvey wasn't improving? There's nothing normal about forearm tenderness that doesn't heal. Again, Harvey ignored every warning sign, noting, "There was no shooting pain down my arm and in my hand." But what would've been the downside to slipping that arm into an MRI tube?
Writes columnist David Lennon in Newsday:
We've witnessed the frustration, the failed signings, the collapses. Always the punch line for David Letterman. But Harvey was changing all that. In toting that microphone around Bryant Park for Fallon, the winking Harvey was in on the joke, and the Mets could laugh along with him.
So imagine how Fred and Jeff Wilpon and Sandy Alderson and Terry Collins felt Monday when Harvey was cruelly snatched away for this season and possibly next year.
Actually, you probably felt that way, too. All along, we've been led to believe that 2014 was the goal, the return to respectability, the start of a new era -- and a big reason for that was Harvey.
Read a Harvey column from Tyler Kepner in the Times and news stories in the Post, Daily News, Newsday, Times, Journal, Star-Ledger, Record and MLB.com.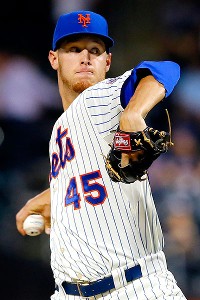 Paul J. Bereswill/Associated Press
Zack Wheeler suffered a tough-luck loss Monday. The Mets had won eight of his last nine starts.
• After an examination Monday with Dr. James Andrews, Jeremy Hefner is expected to proceed with Tommy John surgery. On a positive note, David Wright is due to head to Port St. Lucie, Fla., on Thursday to begin seriously ramping up baseball activities as his strained right hamstring mends. Bobby Parnell continues to hope to avoid surgery for a herniated disc, but remains unsure of what will transpire. Neck surgery would require four to five months of rehab. Read more on Hefner in Newsday.
• Zack Wheeler surrendered a two-out, two-run triple to Cody Asche in the fourth and the Phillies beat the Mets, 2-1, Monday at Citi Field. Philadelphia took over sole possession of third place from the Mets. The Mets have lost five straight. They have scored only six runs during that span.
Wheeler's line: 6.2 IP, 5 H, 2 R, 2 ER, 1 BB, 7 K. He was pulled at precisely 105 pitches, his team-imposed pitch ceiling, even though opposing pitcher Cliff Lee was due up. Lee limited the Mets to one run in eight innings. Josh Satin's streak of reaching base ended at 29 straight starts, tied with Steve Henderson (1977) for the franchise rookie record.
Read game recaps in the Post, Daily News, Newsday, Star-Ledger, Record and MLB.com.
• Las Vegas swept a doubleheader at Colorado Springs to move closer to clinching a postseason berth. The 51s have a 3.5-game division lead with eight games remaining. Kirk Nieuwenhuis doubled and scored the tiebreaking run on an error in the 10th in Game 1. Nieuwenhuis then drove in the tiebreaking run with a groundout in the nightcap victory. Recker had a two-run homer against ex-Met Hisanori Takahashi. Noah Syndergaard, who had been 6-0 with a 1.59 ERA through 10 Double-A starts, was roughed up in Binghamton's 11-0 loss at Bowie on Monday. Syndergaard, pitching for the first time in 10 days because he was skipped a turn to limit his innings, surrendered 11 runs (nine earned), including three homers, in three innings. 2013 first-round pick Dominic Smith went 4-for-5 with a triple, walk, two RBIs and five runs scored as the GCL Mets routed the Cardinals, 18-3. Read the minor league recap here.
• Binghamton left-handed reliever Chase Huchingson has been suspended for 50 games for a second violation involving a drug of abuse, MLB announced.
• Left-hander Darin Gorski has been named Eastern League Pitcher of the Week. Gorski went 1-0 and allowed three earned runs in 14 2/3 innings in two starts with the B-Mets.
• From the bloggers: Faith and Fear in Flushing cannot definitively say we should have seen Harvey's injury coming. … John Delcos at Mets Report asks if there is a scapegoat.
BIRTHDAYS: Outfielder Brian McRae turns 46. … Mike Maddux, who pitched for two seasons for the Mets in the mid-'90s, and the brother of Greg Maddux, is 52.
TWEET OF THE DAY:
On the bright side, this should give Harvey enough time to be Batman in the next Batman / Superman movie! #betterbatmanthanbenaffleck

— David Aardsma (@TheDA53) August 26, 2013
YOU'RE UP: How does Matt Harvey's injury affect the complexion of the 2014 season in your view?