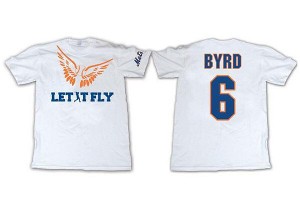 New York Mets
Marlon Byrd T-shirt giveaway.
NEW YORK -- The Mets traded Marlon Byrd on the day they were poised to give out his T-shirt as part of a Tuesday promotion to those who purchased the package.
But the Mets are making things right under the circumstances: They are offering the Byrd T-shirt, plus another shirt giveaway from earlier this season, plus two tickets to a September game.
A giveaway for a traded player is not unprecedented. The Philadelphia Phillies proceeded with a Hunter Pence bobblehead day after trading him to the San Francisco Giants.