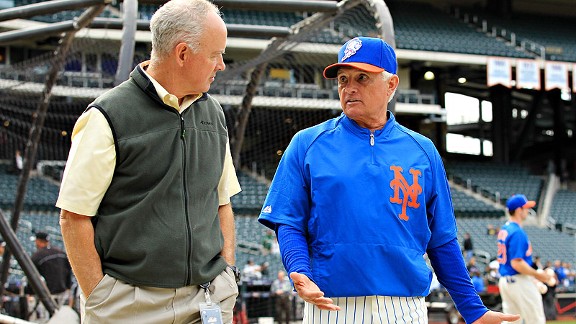 John Munson/USA TODAY Sports
Sandy Alderson says Terry Collins will be judged by more than wins and losses.NEW YORK -- How would you like to be Terry Collins now?
The manager is trying to make his closing statement on why he merits continuing to manage the Mets beyond this season. And now he has to do so minus Matt Harvey, Marlon Byrd and John Buck, too, in addition to already being without David Wright as well as Bobby Parnell and even Jeremy Hefner.
"I will reiterate the same things I've been saying all the summer: This is not about me. This is not about me. This will never be about me," Collins said Tuesday afternoon. "This is only about our team and that clubhouse and those 25 guys that have got to go out and play every night. And so my job right now is to make sure they understand what is expected of each and every one of those guys. And that they go out and attain that and reach those expectations. That's all this is about."
Team insiders have told ESPNNewYork.com that a decision about Collins is pretty much already resolved, but the front office is not prepared to commit until after the season just to be safe, in case there is a drastic turn. The belief is Collins will be rewarded with a new contract.
Sandy Alderson again stated Tuesday that Collins will be judged by more than the team's record.
"First of all, we all want to win as many games as possible," the GM said. "My role is to balance the short term with the long term. I have said before and would reiterate that how Terry is evaluated is beyond simply wins and losses. We've talked about that before. To the extent that it's perceived that this will make it more difficult to win, and I don't necessarily hold to that belief, obviously all the circumstances will be taken into account."
As for the trade when coupled with the Harvey injury, Alderson added: "I don't think that this deal changes anything. This is a baseball deal. This is a typical deal late in the season -- players going to a playoff contender and in this instance the Mets acquiring some future talent. When you juxtapose this deal with the Harvey injury, it's easy to conclude, well, things have gone south. And, in fact, although this deal and the Harvey injury were coincidental, one of the concerns we had was the sense that, OK, the two of them together might send the wrong message. So to the extent there was any influence from the Harvey injury, it would have been not to do the deal. But we felt this was in our best interest.
"We want to finish as well as we can. But the sense we create on the part of the fans and their confidence in the future also is a function of more than wins and losses. It's about the talent. It's about the direction of the team. I think this move will be weighed in that broader sense rather than just how well we do in the month of September."