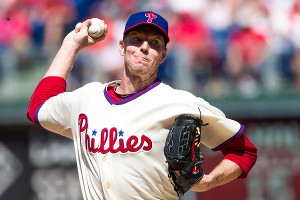 Christopher Szagola/Associated Press
Roy Halladay spoke with Matt Harvey on Tuesday.
NEW YORK -- Matt Harvey had no interest in speaking about his sudden optimism about potentially avoiding Tommy John surgery.
"I gave a press conference," the New York Mets ace tersely said Wednesday, referring to the announcement two days ago that he has a partially torn elbow ligament.
Philadelphia Phillies pitcher Roy Halladay, however, did speak with media Wednesday, a day after Harvey consulted with the two-time Cy Young Award winner.
Read the full news story here.