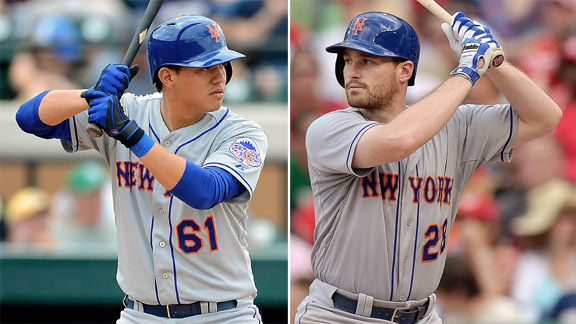 Associated Press, Getty Images
Wilmer Flores is manning second base over Daniel Murphy on Wednesday.NEW YORK -- Terry Collins said Wilmer Flores is not auditioning for Daniel Murphy's second-base job.
Flores, who played in 79 games at second base for Triple-A Las Vegas this season, gets his first major league start at the position on Wednesday night.
#4 3B
New York Mets
2013 STATS
GM

18

HR1

RBI11

R6

OBP.292

AVG

.250
Collins said Sandy Alderson wanted to get Flores a look at second base, if for no other reason than to disqualify that as a position going forward. Flores is not going to get a streak of games at second base, but will see some time there down the stretch.
"Nobody says you're auditioning a guy," Collins said. "You're just trying to see what his best position is. He's played pretty much all year at second base. So when he came up here, the question is: 'Why are you playing him at third base?' Now the question is: 'Why are you playing him at second?'
"You can't make anybody happy here.
"What we're trying to do is put Wilmer at second base to see how he handles it at this level, so you can look down the road: Is there going to be a fit there? Because if there isn't, then you've got to certainly look at the two corners and say: 'Where is he going to fit if he's not going to play the middle of the infield?'
"As we know, he's played a lot more second recently than he has short. I've had some people tell me, 'Are you going to try him at shortstop' a la the Cal Ripken image? Right now, I want this kid to hit. Sandy wanted me to try to get him at second base sometime. He wanted to see how he handled it. So I'm going to get him out there. But I wouldn't call it an audition."
As for Flores' usage at second base the remainder of the season, Collins said: "We don't have a plan written down. I wanted to get him in here at home. I wanted to get him out there so we could take a look.
"We knew we had [left-handers] Cliff [Lee] and [Cole] Hamels coming into this series, so I thought this would be perfect to give Dan a day, especially with a day game [Thursday] after a night game. … If there's anybody in there that's certainly beat up at this time of year, it's the second baseman. And he's played every game. So I thought it was a perfect time. But I don't have anything etched in stone. We'll pick some other dates to get [Flores] out there."