NEW YORK -- Daisuke Matsuzaka has the second-longest time between pitches among qualifying MLB starting pitchers since 2007. His 25.3-second average only is quicker than Josh Beckett (25.5 seconds).
Mets fans learned just how slow that feels on Wednesday night.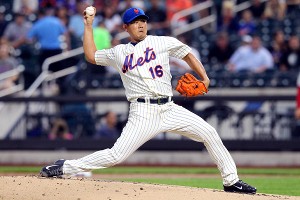 Brad Penner/USA TODAY Sports
Daisuke Matsuzaka threw 110 pitches in 4 1/3 innings.
In a three-hour, 32-minute game in which Matsuzaka threw 110 pitches before departing with one out in the fifth inning, the Philadelphia Phillies ultimately beat the Mets, 6-2, at Citi Field.
Philadelphia retook a one-game lead over the Mets for third place in the NL East.
Matsuzaka already had thrown 82 pitches through three innings, but somehow had kept the Phillies off the scoreboard by twice stranding the bases loaded.
His tightrope walk ended an inning later, with Jimmy Rollins delivering a game-tying RBI double.
Tied at 1, Matsuzaka also loaded the bases in the fifth, then forced in Philadelphia's second run by plunking John Mayberry Jr. with one out.
Terry Collins summoned Robert Carson for the southpaw's first major league appearance since June 9. He struck out pinch hitter Darin Ruf, but then surrendered a two-run single to opposing pitcher Cole Hamels as the Phillies took a 4-1 lead.
Matsuzaka's final line: 4.1 IP, 6 H 4 R, 4 ER, 4 BB, 5 K, 2 HBP.
The last Mets pitcher to throw 110-plus pitches while failing to complete five innings: Oliver Perez, on Sept. 16, 2007, also against Philadelphia. That was game No. 3 of the Mets' coughing up of a seven-game division lead with 17 to play.
Family ties: Eric Young Jr. stole two bases, Nos. 30 and 31 of the season. In reaching the 30-steal plateau for the first time in his career, Young and father Eric Young Sr. became the fifth father-son combination to each have a 30-steal season, according to the Elias Sports Bureau. The other families: Sandy Alomar Sr. and Roberto Alomar, Bobby Bonds and Barry Bonds, Jose Cruz Sr. and Jose Cruz Jr., and Maury Wills and Bump Wills.
What's next: The Mets complete a four-game series with Philadelphia with a Thursday matinee. Carlos Torres (2-2, 2.96 ERA) takes Matt Harvey's turn in the rotation. Torres opposes rookie right-hander Ethan Martin (2-2, 6.33) at 1:10 p.m.