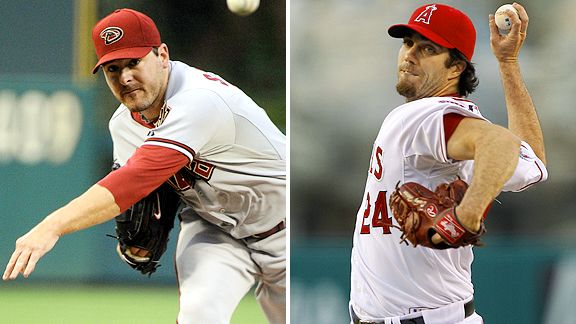 US Presswire, AP Photo
Left-hander Joe Saunders (left) made his Diamondbacks debut Thursday at Philadelphia after being acquired from the Los Angeles Angels as part of a four-player package for Dan Haren.
METS (52-50, third place/NL East) vs. ARIZONA DIAMONDBACKS (37-65, fifth place/NL West)
Friday: RHP Mike Pelfrey (10-5, 4.00) vs. RHP Ian Kennedy (5-8, 4.10), 7:10 p.m. ET
Saturday: LHP Hisanori Takahashi (7-5, 4.52) vs. RHP Barry Enright (2-2, 2.73), 7:10 p.m. ET
Sunday: LHP Jon Niese (7-4, 3.43) vs. RHP Rodrigo Lopez (5-9, 4.68), 1:10 p.m. ET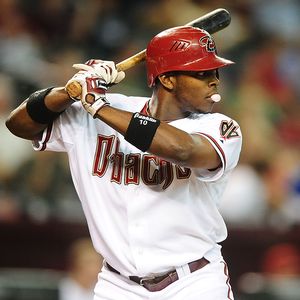 Mark J. Rebilas/US Presswire
Justin Upton extended his hitting streak to 14 games on Thursday at Philadelphia.
Diamondbacks short hops
Arizona interim GM Jerry Dipoto, a former Mets reliever, sent right-hander Dan Haren to the Los Angeles Angels on Sunday for left-hander Joe Saunders, right-handed reliever Rafael Rodriguez, minor league left-hander Patrick Corbin and a player to be named, reportedly left-hander Tyler Skaggs. Saunders surrendered two runs on nine hits in seven innings, including a solo homer to Raul Ibanez, and received a no-decision in the Diamondbacks' 3-2, 11-inning loss at Philadelphia on Thursday night in his Arizona debut. The trade became a homecoming of sorts for the deal's major league pitchers. Haren was raised 20 minutes from the Angels' stadium. Saunders had moved to Chandler, Ariz., several years ago to escape the winters in his native Virginia. Rodriguez, who made one appearance for the Angels this season, was assigned to Triple-A Reno. Corbin had 13 wins in Class A with the Angels this season, tops in the minors. … Still on the trading block with Saturday's 4 p.m. non-waiver trade deadline approaching, according to various reports: relievers Aaron Heilman and Chad Qualls, catcher Chris Snyder and first baseman Adam LaRoche. Qualls, who is making $1.6 million this season, continues to struggle. He allowed a two-run homer to Philadelphia's Cody Ransom on Tuesday and has been scored upon in 10 of his last 16 appearances. Qualls has an 8.51 ERA. … Heilman tossed two scoreless innings for the second time this season Thursday at Philadelphia. The other instance: against the Mets on July 21. … Roy Halladay outpitched Edwin Jackson (five runs in five innings) on Wednesday as the Phillies beat the Diamondbacks, 7-1, in matchup of pitchers with no-hitters on their résumés. The last matchup of no-hitter twirlers in the same season as their feats: Wilson Alvarez vs. Nolan Ryan on Sept. 6, 1991. … Outfielder Justin Upton left Tuesday's game with a tight right hip and did not play the following day, but returned to the starting lineup Thursday. Gerardo Parra manned right field in Upton's absence. Upton extended his hitting streak to 14 games in the series finale against the Phillies. … Brandon Webb, who has been out the entire season recovering from shoulder surgery, could return as a reliever. However, Webb aborted his most recent bullpen session because he had trouble loosening his arm. … The Arizona Republic reported that the Diamondbacks payroll, which was approaching $80 million before separate trades involving Haren and outfielder Conor Jackson saved $3.3 million, will drop during the offseason. The expiring contracts include outfielder Eric Byrnes ($11 million), Webb ($8.5 million), Qualls ($4.185 million) and the ex-Met Heilman ($2.15 million). … The Diamondbacks may open the 2011 season against the San Francisco Giants in Taiwan, the team's Web site reported. … Second baseman Kelly Johnson became the fourth Diamondback to hit for the cycle when he accomplished the feat last Friday against San Francisco. The other Diamondbacks cyclists: Stephen Drew (2008), Greg Colbrunn (2002) and Luis Gonzalez (2000). … Ex-Yankee Ian Kennedy had a franchise-record nine walks in a 5-3 loss at Tampa Bay on June 26. Kennedy allowed four runs in 6 2/3 innings against San Francisco last Saturday and had a personal two-game winning streak snapped. … Center fielder/leadoff hitter Chris Young (.266, 17 HR, 21 steals) is three homers shy of his second career 20-homer, 20-steal season. … LaRoche is hitting .185 (5-for-27) in his last eight games. … Third baseman Mark Reynolds, despite a .217 average, is tied with Adam Dunn and Prince Fielder for second in the National League with 24 homers, two behind Cincinnati's Joey Votto. Reynolds had four homers in three games at Citi Field last season. … Arizona's underwhelming bullpen has a 5.63 ERA in 61 games since May 19. It had a 7.98 ERA entering that stretch. … 1989 Mets first-round pick Alan Zinter, the hitting coach for high-A Visalia in the Arizona system, will serve in that capacity for the Scottsdale Scorpions in the Arizona Fall League.
Matchups
Pelfrey vs. Diamondbacks (career: 0-5, 6.75 ERA)
Adam LaRoche .750, 3 RBIs, 8 AB
Miguel Montero .556, 1 RBI, 9 AB
Augie Ojeda .400, 4 RBIs, 5 AB
Chris Snyder .400, 5 AB
Justin Upton .400, 1 RBI, 5 AB
Chris Young .364, 11 AB
Stephen Drew .250, 2 RBIs, 16 AB
Kelly Johnson .227, 1 HR, 5 RBIs, 22 AB
Mark Reynolds .222, 1 RBI, 9 AB
Gerardo Parra .143, 1 RBI, 7 AB
Takahashi vs. Diamondbacks (career: never faced)
Niese vs. Diamondbacks (career: 0-0, 5.40 ERA)
Rusty Ryal 1.000, 1 HR, 1 RBI, 2 AB
Justin Upton .667, 3 AB
Mark Reynolds .500, 1 HR, 1 RBI, 2 AB
Chris Young .500, 1 HR, 1 RBI, 2 AB
Kelly Johnson .500, 4 AB
Adam LaRoche .333, 3 AB
Miguel Montero .000, 3 AB
Augie Ojeda .000, 3 AB
Tony Abreu .000, 2 AB
Cole Gillespie .000, 2 AB
Kennedy vs. Mets (career: 1-0, 1.80 ERA)
David Wright .667, 3 AB
Luis Castillo .500, 2 AB
Angel Pagan .333, 1 RBI, 3 AB
Carlos Beltran .000, 3 AB
Jose Reyes .000, 3 AB
Ike Davis .000, 2 AB
Jason Bay .000, 1 AB
Enright vs. Mets (career: 1-0, 1.13 ERA)
Jose Reyes .500, 4 AB
Josh Thole .333, 1 HR, 1 RBI, 3 AB
Ike Davis .333, 3 AB
Angel Pagan .333, 3 AB
Jason Bay .000, 3 AB
Luis Castillo .000, 3 AB
David Wright .000, 3 AB
Carlos Beltran .000, 2 AB
Chris Carter .000, 1 AB
Lopez vs. Mets (career: 1-0, 2.84 ERA)
Carlos Beltran .667, 3 AB
Henry Blanco .500, 2 AB
Luis Castillo .375, 8 AB
Alex Cora .000, 6 AB
David Wright .000, 3 AB
Last series results:
Diamondbacks won 3-0 at Chase Field, July 19-21 (AP game recaps)
Diamondbacks 13, Mets 2: The New York Mets are struggling out West, no one more than Mike Pelfrey. The right-hander lasted just 1 1/3 innings in the shortest outing of his career and the Arizona Diamondbacks went on to rout the Mets. Mark Reynolds led the Diamondbacks' barrage with an RBI triple and three-run homer, his 21st of the season. Mets manager Jerry Manuel said Pelfrey needs to go back to the fastball that got him off to a 9-1 start. In his last six starts, Pelfrey is 1-4 with a 9.11 ERA. The Mets have lost four of their first five on an 11-game post-All-Star break trip to the West and seven of nine overall. They fell 5½ games behind idle Atlanta in the NL East. Pelfrey (10-5) threw 74 pitches, 51 in a miserable first inning. He allowed six runs and seven hits. The problem, Manuel said, is all in Pelfrey's head, and he said talked to him about regaining trust in his power pitch. Catcher Rod Barajas said that when Pelfrey throws the fastball lately, it's either out of the strike zone or right over the plate. Barajas said he could be losing confidence. Pelfrey said he's fine physically. Mentally, it's another matter. Pelfrey agreed that somewhere a few starts ago he got away from the fastball. Justin Upton had two RBIs with a double and triple as Arizona amassed a season-high 18 hits. Ian Kennedy (5-7) gave up a run and four hits through five innings to win his second straight decision after losing his previous four. Seven players had at least one RBI for the Diamondbacks, who were coming off a three-game sweep at the hands of the Padres in San Diego. Mets shortstop Jose Reyes committed two errors in the first two innings. The Diamondbacks' Chris Young had three leadoff singles and scored on all of them. Arizona sent nine to the plate in the first. Johnson's double brought Young home, then Upton walked. Miguel Montero grounded to first, where Ike Davis fielded it and threw to second for the force. But Reyes' return throw to first for what could have been a double play was wild, allowing Johnson to score. With two outs, Reynolds hit one above the 407-foot sign in straightaway center for an RBI triple to make it 3-0. Stephen Drew walked, then Gerardo Parra singled Reynolds home. Young started the second with another single, then scored when Upton doubled. Montero, 3-for-5 with a double and an RBI, singled to put runners at first and third, bringing an end to Pelfrey's night. Adam LaRoche, who had three hits, singled in a run off reliever Raul Valdes to make it 6-0. Arizona added five runs off reliever Fernando Nieve in the sixth, three on Reynolds' shot to the upper deck in left field. Mets second baseman Luis Castillo was 2-for-4 in his return to the lineup for the first time since going on the DL on June 5 with a bruised right heel. Pelfrey has given up at least one run in the first inning in each of his last eight starts after doing so once in his first 11. Pelfrey's previous shortest outing was three innings, twice, the most recent on July 7, 2009.
Diamondbacks 3, Mets 2: Since taking over as Arizona's manager, Kirk Gibson has preached building confidence, from winning games down to having a good at-bat, a good swing. Now the Diamondbacks really have something to build on: a winning streak, their first under the interim skipper. Barry Enright pitched eight effective innings and had his first career RBI on a nubber to third, helping the Diamondbacks give Gibson consecutive wins for the first time as manager. Enright (2-2) did his part on the mound, retiring 14 straight hitters after escaping a tight spot in the first inning. He struck out a career-high eight. He also helped with his bat, ticking the ball just enough to send it slowly whirling just inside the line for his first career hit and the eventual winning run. The game-winner was a spinner, but Justin Upton had a little more oomph in hitting his 16th homer, off R.A. Dickey (6-4). Gerardo Parra also hit a run-scoring triple to give Arizona its first winning streak at home since beating San Francisco and Toronto twice each from May 19-22. The Mets whiffed through a huge opportunity in the first inning and had just six hits overall in failing to score more than four runs for the 11th straight game, their longest streak since 2004. Josh Thole hit his first career homer off Enright in the eighth inning and Angel Pagan hit another solo shot off Juan Gutierrez in the ninth, but the right-hander closed out his third save in five chances to send New York to its eighth loss in 10 games. The Mets needed innings out of Dickey after Mike Pelfrey put a strain on the bullpen with a career-shortest outing that lasted four outs and 13 batters. Dickey had a solid previous start -- one run and five hits in seven innings, only to be outdueled by Tim Lincecum in a 2-0 loss. The right-hander gave New York the innings, just not results. Dickey left a knuckler up in the third inning and Upton hit it out to center for a solo homer, then Parra added a run in the fourth with a run-scoring triple that sailed over Carlos Beltran's head after the center fielder took a first step in. Enright made it 3-0 with his squibber. Dickey allowed three runs on seven hits in seven innings to extend his winless streak to five starts. The Diamondbacks didn't get a lot off Dickey, but it was all they needed against New York's not-hitting-nine. The Mets finally had their lineup together for the Diamondbacks series, getting David Wright, Jose Reyes, Luis Castillo and Beltran on the field together for the first time since May 20, 2009. It didn't do them any good. New York fell behind early and never mounted a rally, continuing a weak-hitting trend by going 1-for-6 with runners in scoring position. The Mets didn't even get many chances against Enright. New York had the bases loaded with one out against him in the first inning and came away with nothing. Enright got Ike Davis to swing through a high fastball for a strikeout, then fanned Jason Bay on a breaking ball to end the inning. After that, Enright was just right, sitting down the Mets in a row until Reyes led off the sixth inning with a single. He was quickly erased with a double play and the D-backs turned another in the seventh, contributing to another frustrating night at the plate for the Mets. Mets left-hander Oliver Perez joined the team in Arizona and was taken off the DL. He's been out since June 5 with right knee tendinitis. Arizona secured its first series win since taking two of three at Tampa from June 25-27.
Diamondbacks 4, Mets 3 (14 innings): A long night had an all too familiar ending for the punchless New York Mets. A pinch-hit RBI single in the 14th inning by Chris Snyder gave the Arizona Diamondbacks a three-game sweep on a trip that's gone from bad to worse for the Mets. Snyder, the last position player available for Arizona, hit a 2-2 pitch from Fernando Nieve (2-4) over the head of left fielder Jason Bay to bring home Justin Upton, who led off with a double. The Mets fell to 1-6 on their 10-game Western trip. Swept for only the second time this season, New York managed seven runs in the three games. Five Arizona relievers -- in what has been considered the worst bullpen in baseball -- shut out New York on one hit over the last eight innings. Blaine Boyer (2-2) was perfect over the final two in the Diamondbacks' first three-game sweep of the season. Boyer, though, said the bullpen has been revived by the new attitude instilled by interim manager Kirk Gibson. Five players hit solo home runs Chris Young, Rusty Ryal and Mark Reynolds for Arizona; Angel Pagan and Rod Barajas for New York. All came off starters Jon Niese and Dan Haren. The Mets were swept only one other time, in a four-game series May 13-16 at Florida. Among NL teams, only Arizona, Washington and Pittsburgh -- all in last place -- have worse road records than New York's 19-30. Mets manager Jerry Manuel gave the team a pep talk before the game. It didn't help at the plate: Batters 3 through 6 were a combined 1-for-20 with 11 strikeouts. Six New York relievers, including the often-maligned Oliver Perez, blanked the Diamondbacks for eight innings before Snyder brought an end to the 4-hour, 45-minute marathon. Nieve (2-4) relieved Perez with one out in the 13th and retired both batters he faced. But Upton led off the 14th with a double to left. The Mets intentionally walked Miguel Montero to bring up the hard-hitting but strikeout-prone Reynolds, who went down looking. Snyder came on to pinch hit for Boyer. He hit a long one just left of the foul pole on a 1-0 pitch, then saw the count go to 2-2 before his big hit. Niese went five innings, giving up six hits, striking out six and walking one. Haren, 0-4 in his last seven starts, went six innings. He allowed six hits, including Rod Barajas' two-out home run that tied it at 3 in the sixth. He struck out eight, walked two, hit a batter and had two wild pitches. Young hit his 15th career leadoff home run, but first since May 25, 2008. New York's Ike Davis, a star at nearby Arizona State, was 0-for-5 with three strikeouts. He was 1-for-13 in the series and struck out six times.