NEW YORK
FIRST PITCH: Another day, another major league debut.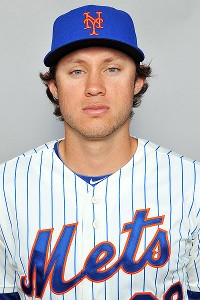 Steve Mitchell/USA TODAY Sports
Matt den Dekker is due to make his major league debut today.
Matt den Dekker is due to start in center field in today's matinee series finale between the Mets and Philadelphia Phillies, marking his Mets debut.
Den Dekker has four "SportsCenter" top-10 catches on his resume in his career -- two from his days at the University of Florida, and another couple from Grapefruit League action.
Six of Wednesday's Mets starters also saw action at Las Vegas this season, while Daisuke Matsuzaka spent most of the year at Triple-A Columbus in the Cleveland Indians organization.
Meanwhile, before departing for Port St. Lucie, Fla., to ramp up his rehab from a right hamstring strain, David Wright plans to speak with the media this morning.
Carlos Torres, the fill-in for Matt Harvey for now, starts opposite Phillies rookie right-hander Ethan Martin (2-2, 6.33 ERA) in the 1:10 p.m. game.
Thursday's news reports:
• At Terry Collins' request, Roy Halladay spoke with Harvey about his own elbow injury. Halladay avoided surgery and has pitched for years without issue, although the Phillies right-hander suggested his injury turned out to be more related to the flexor pronator than the ulnar collateral ligament. Earlier Wednesday, Sandy Alderson reiterated on ESPN New York 98.7 that whether Tommy John surgery will be required will not be firmly known for two or three weeks. Read more in the Times, Newsday and MLB.com.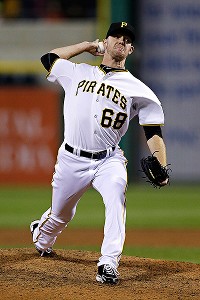 Gene J. Puskar/Associated Press
Vic Black has served as a hard-throwing Triple-A closer.
• The Mets reportedly will acquire right-hander Vic Black, an upper-90s-throwing Triple-A closer, from the Pittsburgh Pirates to complete this week's trade.
"I feel I have two pretty good options. I can go fastball and I can go slider, and that shortens my thought process," Black told fangraphs.com earlier this season about his repertoire. "As a short-inning reliever, I don't want to start thinking about too many ways to get a guy out. …
"I think velocity is a big deal. It gives you an extra addition. To me, 98 is another pitch. You don't really need to locate it a lot. There are times -- like early in the count -- when you can get away with rearing back and throwing it down the middle. It's like, 'Go ahead and swing and we'll see if you've got it. If you don't, I'll throw it again.'"
• Marlon Byrd batted cleanup and had a three-run homer in his Pirates debut. "A new stadium, new fans, new everything -- it's like the first day of school in a new school," Byrd said afterward, according to the Pittsburgh Post-Gazette. "You want to feel accepted."
• John Buck joined Michael Kay on ESPN New York 98.7 on Wednesday. Listen here.
• Matsuzaka needed 110 pitches while lasting only 4 1/3 innings and the Mets lost to the Phillies, 6-2, Wednesday at Citi Field. Read game recaps in the Post, Daily News, Newsday, Star-Ledger, Record and MLB.com.
• Jacob deGrom departed Game 1 of Las Vegas' doubleheader with an apparent injury and the 51 split with Colorado Springs. Jeyckol De Leon's walk-off RBI clinched Kingsport's first postseason appearance in nearly two decades. John Gant tossed a one-hit shutout as Brooklyn moved into first place in its New York-Penn League division. Read the full minor league recap here.
• 2013 first-round pick Dominic Smith was promoted from the Gulf Coast League to Kingsport.
• Jeremy Hefner underwent Tommy John surgery and Jenrry Mejia underwent surgery to remove a bone spur from his pitching elbow on Wednesday at the Hospital for Special Surgery.
• Even though Wilmer Flores started at second base Wednesday, Collins said Flores is not auditioning for Daniel Murphy's job. Read more in the Star-Ledger.
• Read more on den Dekker in the Journal.
BIRTHDAYS: Anthony Recker turns 30. … Noah Syndergaard turns 21. … Fellow catcher Henry Blanco is 42.
TWEET OF THE DAY:
I can't even get into the #Mets right now with this post Harvey depression

— Hershiser (@SlowYourRoll79) August 28, 2013
YOU'RE UP: How should Terry Collins handle Matt den Dekker versus Juan Lagares in center field?