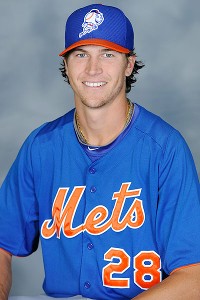 Courtesy of New York Mets
Jacob deGrom
NEW YORK -- Right-handed pitching prospect Jacob deGrom, who is due to be added to the 40-man roster this offseason to shield him from the Rule 5 draft, left his Triple-A start after two innings on Wednesday night at Colorado Springs under the care of a trainer. He has an apparent shoulder issue.
Paul DePodesta wrote via text message Thursday morning: "He mentioned that he felt a little stiff, and we didn't want to take any risks. He said he was feeling fine before the game was even over."
DeGrom, based on production, would merit a call-up to the Mets for rotation work, but team officials are passing, just as they are with Rafael Montero and Noah Syndergaard.
DeGrom has jumped all the way from Class A St. Lucie to Las Vegas this season, and has now logged 147 2/3 innings. His innings count in official minor league games in 2012 was 111 1/3, but DePodesta has suggested that is misleadingly low because deGrom also pitched in extended spring training games last year, which is not reflected in that innings total.