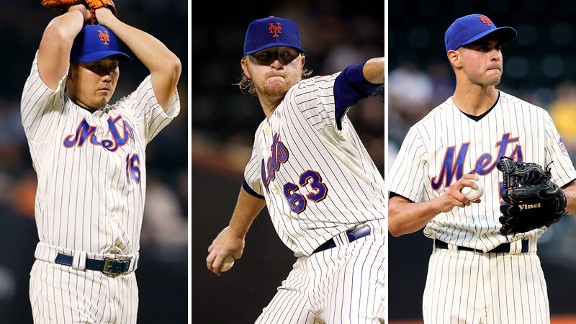 Getty Images
Chris Schwinden (center) could get September starts, even with Daisuke Matsuzaka and Carlos Torres remaining in the rotation.NEW YORK -- Asked if Daisuke Matsuzaka and Carlos Torres will remain in the rotation for the remainder of the season or are being evaluated start to start, Terry Collins was rather blunt.
"I don't know where you guys think we're getting people to replace these guys," Collins said, before turning into comedy.
"Gary's arm is bothering him," he added, motioning toward SNY broadcaster Gary Cohen. "Ron [Darling]'s got a little tendinitis. Starting pitchers are hard to find. Ask the other 29 teams. Right now, yeah, we're committed to those guys."
Collins actually predicted the Mets would use a sixth starter at points in September. He said he could not identify who that might be. There has been some organizational buzz pointing to Chris Schwinden. Jacob deGrom, Rafael Montero and Noah Syndergaard are not considerations.
Schwinden is 6-9 with a 5.73 ERA at Triple-A Las Vegas.
Left-hander Darin Gorski at Double-A Binghamton could be a logical alternative.
"We have talked about it," Collins said about the six-man rotation. "Where we are, who it's going to be, I don't know who it is yet. We've got to certainly find a guy to fill that spot, and I don't know who it is yet."