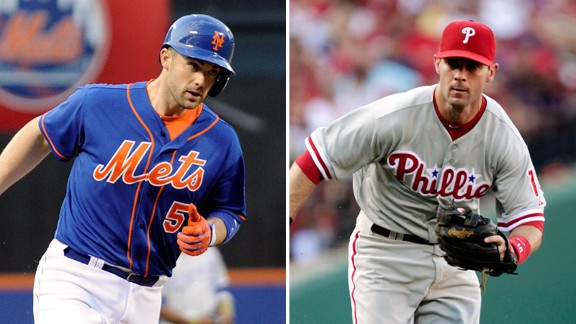 Associated Press
David Wright received hamstring advice from Michael Young this series.NEW YORK -- The Philadelphia Phillies are practicing medicine without a license this series.
First, Roy Halladay offered elbow advice to Matt Harvey at Terry Collins' request.
Now, David Wright has revealed Michael Young approached him this series about how to handle a hamstring tear.
"Michael Young was great," Wright said Thursday morning at Citi Field, before heading to Port St. Lucie to continue rehab of a Grade 2 hamstring strain. "Roy talked to Matt the other day, and Michael came and found me. He had this thing and he tried to rush it back. And he said, 'In all your rehab stuff, you're balanced. And once you get into a game, everything becomes kind of unbalanced.' He said the first pitch that he took -- he said he didn't even swing -- he stepped hard with it and his hamstring went. It was a cautionary tale that he wanted to come find me and tell me, and I appreciated that."
Wright has been on the DL since Aug. 3. He resolved to return this year, even though it might be more prudent to shut it down, because that's his makeup and because he wants to know he's fine.
"This is what I do. I want to play," Wright said. "It's against a lot of -- pretty much everything -- that I believe in just to shut the season down and get ready for next year. You've got 25 guys in that room battling right now, and obviously we're in an uphill battle with some of the injuries and some of the trades and things that have happened. So I want to get back and join my teammates and try to help them finish strong.
"And then the second part of that is, personally, I don't want the next time to take the field to be spring training, with the uncertainty of not being able to finish the season strong and healthy."
Wright is not ready to enter minor league games -- "but hopefully soon," he added. For now, he only is jogging, so at some point he still needs to test the hamstring running and rounding bases.
"The doctors, the medical staff have all said, 'Look, this is a six-week injury,'" Wright said. "I think I'm ahead of schedule. …
"I'm progressing well. I'm running. I wouldn't say it's a run. It's probably a quick jog -- maybe 60 percent, 70 percent. I'm swinging the bat fine. I'm fielding. I'm doing all that stuff. It's just a matter of being able to run full speed, running the bases, starting and stopping. That's the most important thing. I can simulate swinging and taking groundballs, but once you get in a game situation it's a little different with starting and stopping and having to reverse direction and stuff like that. That's what I need to get down before I get put in a game situation."
As for the state of the Mets after learning of Harvey's ulnar collateral ligament tear, Wright acknowledged it is a blow, but suggested the club could overcome it.
"I don't think one injury that may or may not affect next year is going to affect the overall plan," Wright said. "We'd like to have Matt lead that pitching staff, but we've got other young guys that hopefully can step up and not necessarily be Matt Harvey, but can give us a very deep pitching staff. And with the money we have coming off the books this year, I expect us to go out there and make this team better. Whether it's through free agency, whether it's through trades, I still believe in vision that [general manager] Sandy [Alderson] has.
"Although, for the time being, this looks like a step backwards, it gives other young pitchers the opportunity to step up and show what they have the rest of this year. And hopefully Matt's back next year. If not, I'm still confident in the plan. And the success rate -- I don't know the numbers -- but it seems pretty overwhelmingly in favor of Matt if he does need to have the surgery.
"We might have to take a few steps back, but when you're accomplishing something that's always the case. You usually have to take a few steps back before you move forward."