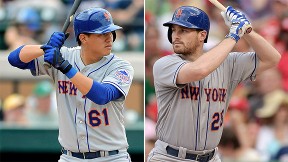 Associated Press, Getty Images
Wilmer Flores started at second base on Wednesday. Daniel Murphy then had four hits Thursday.NEW YORK -- Daniel Murphy matched his career high with four hits in the Mets' 11-3 win against the Philadelphia Phillies on Thursday.
It might not have been a coincidence that it came after a day off -- or at least a partial day off. Murphy entered Wednesday's game in the seventh inning.
He has appeared in 131 of the Mets' 132 games this season.
"Last summer he was starting to get red hot, and all of a sudden, the end of August, the first part of September, he got beat. He was worn down," Terry Collins said. "So I've been trying to give him some sporadic days to keep his legs fresh. That's all that is. He's not hurt. He plays so hard all the time, and he works so hard, his body is just getting tired."
Murphy said he did not mind being out of the starting lineup Wednesday, in part because it allowed Wilmer Flores to get his first major league start at second base. Collins plans to play Flores sporadically at second base in September so the organization can gauge his proficiency there.
"It was good to get Flo out there," Murphy said. "He's played so much at second base in Triple-A. You want to give him a chance to play second base here, too, just because the game is a little quicker. It was good to get him out there, too, and get him some reps and let him get his feet under him at second base."