NEW YORK
FIRST PITCH: Don't look now, but the Mets are about to face a not-quite-dead-yet team.
The Washington Nationals (68-65) have won eight of their past nine games and have moved to within 6½ games of the Cincinnati Reds for the second wild-card spot.
Dillon Gee (9-9, 3.69 ERA) opposes right-hander Jordan Zimmermann (15-7, 3.32) in today's 7:05 p.m. series opener at Nationals Park.
Zack Wheeler faces Dan Haren on Saturday, while Jonathon Niese faces Ross Ohlendorf in Sunday's series finale.
Friday's news reports: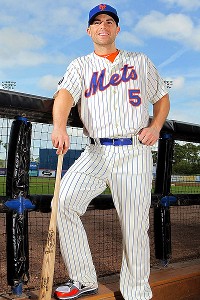 Marc Serota/Getty Images
David Wright has moved to Port St. Lucie to continue his rehab from a right hamstring strain.
• David Wright resolved on Thursday to return to the majors this season, before departing for Port St. Lucie, Fla., to continue his rehab from a strained right hamstring. Wright has yet to run full throttle or cut on bases. He is not ready to enter a minor league game, but hopes to do so soon.
Wright described the Grade 2 tear as having a six-week recovery time. He was cautioned by Philadelphia Phillies infielder Michael Young to avoid overtaxing the muscle as he works back.
Wright added that he believes the Mets will add talent this offseason. "With the money we have coming off the books this year, I expect us to go out there and make this team better," he said. "Whether it's through free agency, whether it's through trades, I still believe in vision that Sandy [Alderson] has."
Read more in the Post, Daily News, Newsday, Star-Ledger, Record and MLB.com.
• The Mets completed their trade with the Pittsburgh Pirates, announcing the acquisition of hard-throwing right-hander Vic Black after completing the waiver process. The Mets are expected to take advantage of a 72-hour reporting window to delay Black's arrival until Sunday, the day rosters expand. Black will report directly to the majors. Read more in Newsday.
• Alderson emailed a letter to season ticket holders, addressing 2014.
• Anthony DiComo at MLB.com has a Q&A with Wheeler.
• Carlos Torres returned to the rotation and took a scoreless effort into the seventh as the Mets split a four-game series with the Phillies with an 11-3 win Thursday afternoon. Daniel Murphy matched a career high with four hits and drove in two runs. Anthony Recker, on his 30th birthday and in his first start since John Buck was traded, belted a two-run homer. Matt den Dekker went 0-for-5 with two strikeouts and a steal in his major league debut.
Read game recaps in the Post, Daily News, Newsday, Star-Ledger, Record and MLB.com.
• Terry Collins essentially said he would be unable to drop Daisuke Matsuzaka from the rotation if he wanted because alternatives are lacking. The Mets may use Chris Schwinden, or another minor leaguer, as a sixth starter in September.
• Jacob deGrom is due to be added to the 40-man roster this winter, but the organization is not planning to give him a call-up. DeGrom departed his Wednesday outing with Las Vegas after two innings with shoulder tightness, but Paul DePodesta minimized the issue.
• Jorge Arangure in the Times delves into the Mets' having two players with surnames beginning with lower-case Ds -- den Dekker and Travis d'Arnaud. The Mets will establish a new major league record next season assuming deGrom joins them in 2014. Writes Arangure:
As for the origin of his last name, d'Arnaud said that his great-great grandfather acquired it when he was adopted by a family of French origin.
A more formal explanation comes from Marcel den-Dikken, a linguistics professor at the City University of New York. "The 'd' is the truncated form of the preposition 'de' 'of,' he wrote in an e-mail. "So d'Arnaud is historically a name associating its bearer with a particular geographical location."
As for den Dekker, his name is of Dutch origin and roughly translates to "the roofer." He said his family traces its roots to Indonesia, which was long a Dutch colony, and from there to the Netherlands. Den Dekker's father, Gerrit, was born in the Netherlands and later boarded a ship with his 10 brothers and sisters that took them to New York. Eventually, Matt den Dekker said, the family settled in San Diego.
• Read more on Murphy in the Journal.
• Dustin Lawley launched his first Triple-A homer as Las Vegas beat Colorado Springs, 10-7. Newly acquired Dilson Herrera drove in the tiebreaking run and reached base three times in his organization debut as Savannah beat Rome, 5-3. Kingsport, playoff-bound for the first time since 1996, clinched its division's title with a 9-1 win against Bluefield. Brooklyn maintained a half-game division lead with a 2-1 win against Staten Island. Read the full minor league recap here.
• Binghamton first baseman Allan Dysktra and closer Jeff Walters have been named to the Eastern League's end-of-season All-Star team. Savannah pitcher Gabriel Ynoa, who notched his 15th win Thursday, was named the South Atlantic's top pitcher, while Gnats pitching coach Frank Viola was recognized on the all-league coaching staff.
BIRTHDAYS: Newest ex-Met Marlon Byrd turns 36. … The late Tug McGraw was born on this date in 1944.
TWEET OF THE DAY:
Now I want to say thanks to all the #Mets fans for the love and support... I'm blown away and 100% excited for this next step. #Blue&Orange

— Victor Black (@Vic_Black_2) August 29, 2013
YOU'RE UP: Should the Mets let Vic Black close games throughout September?