WASHINGTON -- Dillon Gee turned his back to the plate, thinking he had struck out Ian Desmond in the seventh inning. Then he noticed catcher Travis d'Arnaud was not initiating throwing the ball around the infield.
The count actually was 1-2. So Gee, trying to save face, started rolling his shoulder, as if he had a minor medical issue. He did not want to let on that he had mistaken the count. And he did not want the Washington Nationals to think he was showboating.
Of course, Gee's pretend shoulder roll sent Terry Collins and trainer Ray Ramirez streaking toward him from the dugout.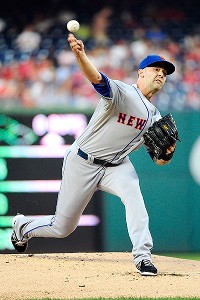 Brad Mills/USA TODAY Sports
Dillon Gee limited the Nats to two runs in 7 2/3 innings while earning his 10th win.
"I had no idea that he didn't call that first pitch a strike. I thought it was, and I didn't know," Gee said. "I felt bad. I felt like an idiot out there. I was trying to play it off. I played it off the wrong way. And then they come out. It was just a disaster. I don't want to be a guy that they think I'm showing anybody up out there, either. I just forgot."
Said Collins: "When he turned around and then he gave me the shoulder thing, I said, 'Oh, no.' And then when I went out there, he said, 'I really just tried to bluff my way through not knowing how many strikes there were.' It fooled me. It had me gasping for breath."
Gee had few other bad moves on Friday night, as the Mets beat the Nats, 3-2. He allowed solo homers to Wilson Ramos and Stephen Lombardozzi but no other damage in 7 2/3 innings to pick up his team-leading 10th win. Gee coaxed 14 groundouts.
"Lately I've felt like I've been more of a fly-ball pitcher, and all of a sudden tonight I get I don't know even how many groundouts," Gee said. "It seemed like a lot. I guess maybe the sinker was working. I was pitching down in the zone, so that helps."
Gee missed the second half of last season after undergoing emergency shoulder surgery to repair a damaged artery, so he is particularly grateful for his close to 2013.
"Missing essentially half the year last year, my main goal coming into this year was to make every start," Gee said. "That was No. 1 -- make every start and try to get to 200 innings. If I do that, if I can finish strong, then I'll feel good about the year. Nothing is worse than finishing the year on the DL. I'm pushing really hard to try to finish the year strong."
Gee is now 7-2 with a 2.80 ERA in 11 career starts against Washington.
Desmond praised Gee's game-planning and pitch sequences.
"There's not really a pitcher comparison I can give to him," Desmond said. "Like [Cardinals catcher] Yadier Molina, when you hit against him, you can't think along with him.
"So much of hitting is mental. Your mind, you're trying to think along with the pitcher, and you're really trying to -- it's not guessing, it's more anticipating, looking for a ball in a certain zone. But he mixes his stuff up a lot. And tonight, when he's especially sharp like that, it makes him even tougher. He turned it up a notch when he got a lead.
"To pitch to a 3.00, 4.00 -- whatever it is -- ERA in this division, where there are a lot of good hitters, that's an accomplishment. And he's a good pitcher. He doesn't blow up the radar gun, but he uses all of his pitches effectively and like I said, when he's spotting it all up, it makes him tough. This is the same offense that put up a boatload of runs against the Marlins. He's just tough."
"Every team has that guy that does well against them, and every team has that guy that they score five or six runs every time off him," Ryan Zimmerman said. "He, over his career, has done really well against us. We've watched video, we've done things and we just can't figure him out. He's a big league pitcher for a reason.
"I think Ian's right. He makes good pitches, he mixes it up. His slider was a good pitch tonight. He had a slider that looked like a strike for a real long time and then it's not. You can't really just go out there and think because you're playing the Marlins or the Mets or whoever that it's an automatic win. Those guys are big league players too."