WASHINGTON
FIRST PITCH: It's Zack Wheeler Night in D.C.
Wheeler (6-3, 3.42 ERA) opposes right-hander Dan Haren (8-11, 4.66) at 7:05 tonight at Nationals Park.
"I'm a little tired," Wheeler told Mike Puma in the Post. "My velocity has dropped a little, obviously, [but] I'm learning to pitch at that level so next year when I come back and my velocity is good to go back up, I'm hoping I pick up where I am right now, command-wise."
Saturday's news reports: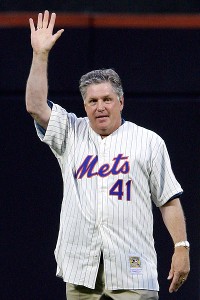 Frank Franklin II/Associated Press
Tom Seaver is not a fan of the modern-day babying of pitchers.
• Jared Diamond in the Journal suggests Matt Harvey is in denial about the need for Tommy John surgery.
Tom Seaver questioned innings caps, such as the ones applied to Harvey.
"Naturally, I felt terrible for the kid," Seaver told Bill Madden in the Daily News about Harvey. "He's got such a bright future. But, at the same time, all I could think of was how it just goes to show how all this babying of pitchers -- pitch counts and innings limits -- is a bunch of nonsense. You can't predict these things, and there's really not a whole lot you can do to prevent them, other than refining your mechanics as [pitching coach] Rube [Walker] did with us. But one way I know doesn't do anything to prevent them is babying these kids like they do.
"Take a look at all of them, Marichal, Jenkins, Spahn, what do you think made them successful? They conditioned their arms by pitching more, not less, starting from when they signed their first contract. Jenkins threw 300 or more innings half a dozen times. Same with Palmer, Carlton and Marichal. I keep going back to that Marichal-Spahn game when they both pitched 16 innings and threw almost 500 pitches between them. Neither one of them had any adverse aftereffects from it."
• Dillon Gee is now the Mets' win leader with 10. Gee limited the Nats to a pair of solo homers in 7 2/3 innings and the Mets beat Washington, 3-2, Friday night. Gee gave a scare to his manager by walking off the mound and rolling his shoulder at one point, but it turned out he was trying to cover up for thinking he struck out Ian Desmond when it was only strike two.
Read game recaps in the Post, Daily News, Times, Newsday, Star-Ledger, Record and MLB.com.
• Nats manager Davey Johnson was forced to leave the dugout from the fourth inning through the remainder of the game after feeling lightheaded. The big issue on Washington's side, though: Bryce Harper did not run out his eighth-inning groundout that Daniel Murphy bobbled. Harper stranded two runners.
"The thing about Bryce right now that's tough: He gets frustrated," bench coach Randy Knorr told D.C. reporters. "I don't think he does it intentionally, but he's gonna have to start picking it up a little bit, because we've got everybody else doing it. He gets frustrated at times and it just comes out of him. It's something we've got to fix."
Read more at CSNWashington.com.
• Sandy Alderson told ESPNNewYork.com he expected September call-ups to wait until minor leaguers were done with their playoffs -- with the exception of reliever Vic Black, who is due to join the Mets on Sunday after being acquired from the Pittsburgh Pirates this week. Ruben Tejada will play "quite a bit" once he returns, Terry Collins said. Read more on Tejada in the Daily News.
• Justin Hampson failed to protect a one-run lead in the ninth and Las Vegas lost to Tucson, 3-1. The 51s maintained a two-game division lead with Sacramento's loss. Three games remain, and Las Vegas has the tiebreaker because of winning the season series. So the magic number stands at one. Left-hander Darin Gorski tossed seven scoreless innings in Binghamton's 3-0 win. Brooklyn lost to Staten Island, but maintained a half-game lead on Aberdeen for first place in their New York-Penn League division. Brooklyn and Aberdeen play today and tomorrow at MCU Park. Read the full minor league recap here.
• Frank Francisco tossed a scoreless innings for Binghamton on Friday night, but the buzz is the Mets likely will release him before ever letting him appear in their major league uniform again.
• The Las Vegas 51s handed out their own awards. Wilmer Flores was given the "Mayor's Trophy." Eric Campbell was named player of the year. Hampson was named most valuable pitcher. Catcher Kai Gronauer received recognition for his community service.
• Bobby Parnell is unlikely to return this season, although the need for surgery to repair a herniated disc is not resolved. Meanwhile, Jeurys Familia is on track to reappear in the big leagues this season after undergoing elbow surgery on June 5.
• Mike Kerwick in the Record profiles Andrew Brown.
• From the bloggers … Faith and Fear in Flushing revels in Ralph Kiner.
BIRTHDAYS: Ramon Ramirez, who arrived with Andres Torres in the Angel Pagan trade, turns 32. … Hideo Nomo is 45.
TWEET OF THE DAY:
Earliest I've been to sleep in days. Gotta get that rest in to be fresh for the new start #LGM #METS

— Victor Black (@Vic_Black_2) August 31, 2013
YOU'RE UP: Who should the Mets call up in September?