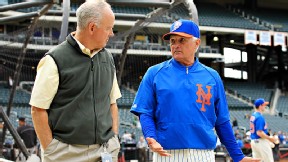 John Munson/USA TODAY Sports
Sandy Alderson is expected to retain Terry Collins for 2014.
WASHINGTON -- Lame-duck New York Mets manager Terry Collins is not facing unemployment.
While team officials do not intend to commit to re-signing Collins until after the season, there is internal respect for how he has navigated this season's challenges and a "strong expectation" he will continue to manage the club in 2014, a source familiar with the Mets' plans told ESPNNewYork.com.
Read the full news story here.