WASHINGTON -- The comedic Tim Byrdak bounced into visitors' clubhouse at Nationals Park on Sunday afternoon and jokingly proclaimed: "Prospect in the house!"
"Young guy," reliever Scott Atchison replied to the 39-year-old Byrdak.
Less than a year after undergoing surgery on Sept. 6, 2012 to repair a torn anterior capsule in his pitching shoulder, Byrdak returned Sunday, displacing Robert Carson as a lefty specialist.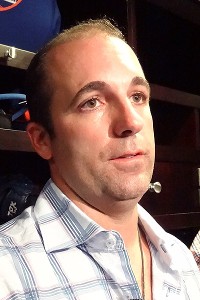 Adam Rubin
Tim Byrdak has returned less than a year after shoulder surgery.
Byrdak expressed gratitude to the Mets for allowing him to work back from the surgery for most of the season at the team's Port St. Lucie, Fla., complex. He also expressed relief at returning to the majors.
When Byrdak initially underwent the procedure, which is uncommon for pitchers, he was unsure whether it would achieve anything more than allowing him to toss a baseball with his sons.
"Last year, when I left, it was hard -- tears in my eyes -- because we didn't know what was going to happen," Byrdak said. "There was a chance -- there was a really good, strong chance -- that I was never going to ever get back to this level.
"I remember laying in an MRI tube as my wife and kids were flying into New York, and getting the news as they were landing that the capsule was torn. It was very emotional looking at the possible end. To be able to come back here is great."
Byrdak worked his way through the minor league circuit, appearing in the Gulf Coast League, Florida State League and then with Las Vegas in the Pacific Coast League. Lefty batters were 3-for-12 with four walks against him in Triple-A.
Byrdak's velocity has been erratic, and he is unlikely to be used for more than one to two lefty batters.
He has touched 87 mph, but generally sits at 85 mph. He will dip to as low as 83 mph in some outings. That is similar to the fluctuations Pedro Feliciano has experienced as he returns from a different type of shoulder surgery. Byrdak figures next season will be better.
Byrdak is one of only a dozen or so pitchers to undergo the surgery to repair a torn anterior capsule. Johan Santana has now undergone it twice. Ex-Met Chris Young also had it performed.
A talk with Young this summer allowed Byrdak to take leaps forward in his recovery, the southpaw suggested.
Byrdak had been warming up with teammates before Class A St. Lucie games at 2 p.m. or 3 p.m. And the muscle would drift back to tightness by the time he was summoned that night from the bullpen. He eventually modified the routine to warm up closer to the game. He kept himself loose until he pitched in relief.
"I wish I would have talked to him sooner," Byrdak said about Young. "If I would have done that, I may have been up here earlier. I don't know."
Byrdak kept a journal of his comeback activities to try to help pitchers who need to rehab from that surgery in the future. After all, the rehab protocols are still being written, unlike with the well-established Tommy John surgery.
"It's been an interesting road to say the least," Byrdak said. "Three-hour bus rides in Port St. Lucie, to the 4 a.m. travel in Vegas, and stuff like that. It's good to be back and see the guys I've been with for a couple of years.
"In the back of your mind you're hoping this moment was possible. My hat goes off to the Mets and the organization and to Sandy [Alderson] and to Jeff [Wilpon] to give me every opportunity to come back, to utilize the facilities to get everything where it needs to be to come back and do this."