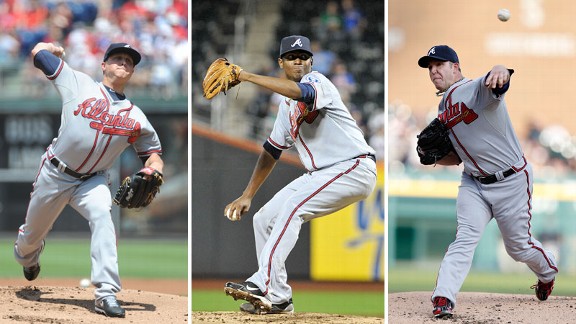 Getty Images
The Mets face (l to r) Paul Maholm, Kris Medlen and Julio Teheran in a three-game series at Turner Field.METS (62-73, third place/NL East) vs. ATLANTA BRAVES (83-53, first place/NL East)
Monday: RHP Daisuke Matsuzaka (0-2, 8.68) vs. LHP Paul Maholm (9-10, 4.37), 1:10 p.m. ET
Tuesday: RHP Carlos Torres (3-2, 2.77) vs. RHP Kris Medlen (11-12, 3.58), 7:10 p.m. ET
Wednesday: RHP Dillon Gee (10-9, 3.63) vs. RHP Julio Teheran (11-7, 3.01), 12:10 p.m. ET
Braves short hops
• The Braves have a two-game lead on the Los Angeles Dodgers for home-field advantage throughout the National League playoffs. Atlanta has produced 21 winning seasons in the past 23 years. The Braves have won 27 of their past 36 games.
• Third baseman Chris Johnson now leads the NL in batting average at .333. St. Louis' Yadier Molina ranks second at .329. Johnson, who has been dealing with leg soreness, had Sunday's game off, but nonetheless delivered a pinch-hit single.
• Freddy Garcia, 36, was called up by the Braves as rosters expanded. He was acquired from the Baltimore Orioles on Aug. 23 for cash. He will serve as a long reliever/spot starter. Garcia tossed 4 2/3 scoreless innings Sunday after starter Alex Wood was knocked out in the third inning.
• Rookie Evan Gattis (.238, 15 HR) was demoted for the weekend to Triple-A Gwinnett to get at-bats. He is due to rejoin the Braves on Tuesday, after the International League season ends. Gattis is hitless in his past 17 major league at-bats. He is hitting .188 since June 1. Gattis was replaced on the major league roster by speedster Jose Constanza.
• Julio Teheran topped Miami's Jose Fernandez in his most recent outing. He limited the Marlins to one run in 6 1/3 innings.
• Jason Heyward, who suffered a broken jaw when he was struck with a fastball from Jonathon Niese at Citi Field, has started to do limited exercising.
• Kris Medlen has a 1.96 ERA over his past four starts. He blanked the Cleveland Indians for seven innings in his last outing.
• Second baseman Dan Uggla returned from the disabled list Wednesday. He underwent LASIK surgery on Aug. 16.
• Closer Craig Kimbrel has 43 saves. He has converted a franchise-record 33 straight chances.
Kimbrel is the first pitcher in major league history to have three straight 40-save seasons beginning with his rookie year, according to the Elias Sports Bureau. His 90.4 career conversion percentage ranks second in Braves history. The only better: John Smoltz, at 91.1 percent. The only better than those two in major league history (min. 100 chances): Eric Gagne, at 91.7 percent.