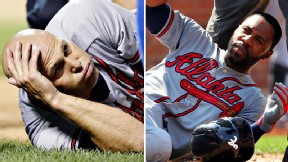 Associated Press, USA TODAY Sports
Tim Hudson (ankle) and Jason Heyward (jaw) suffered broken bones at Citi Field in recent months.
ATLANTA -- The Mets play at Turner Field for the first time since a pair of marquee Atlanta Braves suffered significant injuries in consecutive series in Queens.
Eric Young Jr. stepped on and broke Tim Hudson's right ankle on July 24 at Citi Field. Then, Jonathon Niese broke Jason Heyward's jaw with a fastball to the face on Aug. 21.
"I can't answer what the Braves feel. I can honestly tell you there was nothing intentional on either issue," Terry Collins said. "It's just part of the game. It just happens. And I can't worry about the crowd."