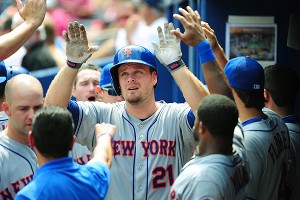 Scott Cunningham/Getty Images
Lucas Duda went 3-for-5 with a solo homer Wednesday.
ATLANTA -- First base appears to agree with Lucas Duda.
Duda went 3-for-5 with a solo homer against Kameron Loe as the Mets beat the Atlanta Braves, 5-2, Wednesday at Turner Field.
Duda is now hitting .371 (13-for-35) with one homer and four RBIs in 11 games as a first baseman this season. And that's the position he will play for the duration of the season with Ike Davis having suffered an apparent season-ending right oblique strain.
"I'm just going to be myself out there," Duda said. "I'm kind of a gap-to-gap guy. Whatever happens, happens. Hopefully I can help in some way."
Said Terry Collins: "It's a small sample size, but he's swinging the bat better."
Duda did readily acknowledge first base is his strong preference, after struggling in the outfield for a couple of years. He and Collins have discussed as much.
"I'm much more comfortable at first," Duda said. "That takes the pressure off."