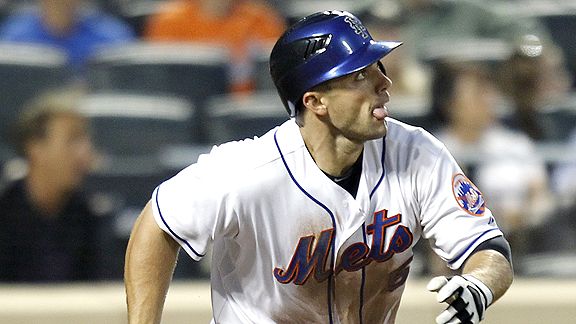 AP Photo/Paul J. Bereswill
David Wright produced two homers and five RBIs on Friday. The Mets nonetheless lost, 9-6.
Don't blame David Wright for Friday's 9-6 loss to the Arizona Diamondbacks. The third baseman homered in his first two at-bats against right-hander Ian Kennedy to drive in the Mets' first five runs.
Wright's five RBIs were the most by a Met since he had six on Sept. 12, 2009 at Philadelphia. It was Wright's second two-homer game of the season and 15th of his career. He also homered twice against Baltimore on June 13, off Kevin Millwood and Mark Hendrickson.
Most 5+ RBI Games as a Met
Wright, who now has a team-leading 17 homers, had been given a day off by Jerry Manuel on Thursday for only the second time this season. In the other instance, Wright responded the following day by producing five RBIs at Washington on May 20.
"I had some fresh legs after yesterday," Wright said. "I just went up there and tried to see the ball good and get some pitches that I could drive and got them."
Wright actually had been hitless in a career-high 15 straight at-bats with runners in scoring position before his first-inning homer Friday evened the score at 3.
He had drifted far away from the plate during the last road trip, which may have contributed to his overall struggles. Wright hit .182 (8-for-44) during the 11-game West Coast swing.
"I go through stretches offensively where I feel comfortable getting close to the plate, and there will be times where I feel comfortable getting away from the plate," Wright said. "With me, hitting is just so tricky. One day you feel good. The next day you don't feel so good, so you try to change some things up. So I'm always kind of experimenting. But I'd like to think that I don't change things too drastically one way or another. I could have been a little closer to the plate today than I have been. I'm not really sure. It's not a conscious thing. It's just going there and whatever feels good that day."