Left-hander Scott Kazmir has produced two All-Star seasons, but this year with the Cleveland Indians may just be more meaningful.
After nearly two full seasons out of Major League Baseball, during which he spent a stretch with the Sugar Land Skeeters in the independent Atlantic League, the 29-year-old Kazmir is back in the big leagues and productive.
Now, Kazmir -- a first-round pick by the Mets in 2002 -- faces his original organization for the first time Friday night, as the Indians and Mets meet in an interleague series in Cleveland.
"Of course the All-Star seasons were very special. This one stands alone just for how far I came throughout the last couple of years," Kazmir said. "It's something I'm very proud of."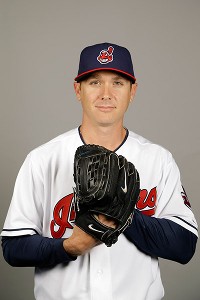 Paul Sancya/Associated Press
Scott Kazmir faces the Mets on Friday for the first time in his career.
In the series opener, Kazmir opposes Zack Wheeler -- the one-time Mets phenom versus the current Mets phenom.
Kazmir was dealt away by the Mets in what originally appeared would be one of the worst trades in organization history.
Kazmir's career detour since the two All-Star appearances with the Tampa Bay Rays has lessened the sting. But if you want to get a rise out of a Mets fan, you can often still elicit a reaction by mentioning trading Kazmir and Jose Diaz to the Rays on July 30, 2004 for Victor Zambrano and Bartolome Fortunato.
The Mets went for the impulsive move of trading away their Double-A phenom because they were six games behind the Atlanta Braves entering a three-game series at Turner Field. They simultaneously acquired Kris Benson from the Pittsburgh Pirates.
Before Zambrano ever pitched in a game for his new ballclub, though, Atlanta had swept the Mets, who fell hopelessly out of the division race.
Then-Mets GM Jim Duquette quietly advocated getting the trade annulled because Zambrano arrived with a balky elbow, but ownership nixed pursuing that route as to not rock the boat with the commissioner's office.
Kazmir, having spent his career entirely in the American League, has never faced the Mets.
The closest he came was in 2009, when the Rays visited Citi Field. Kazmir did not return from a month-long disabled list stint until the following week.
"I guess you can say there will always be something there from it being the team that drafted me," Kazmir said about facing his original club. "But it just feels like so long ago. I'm just concentrating on what I have to do and not really worried about too much of the significance of the game.
"When I was there, it was a completely different staff, front office, players and everything. Plus, I never really got to the big leagues with the Mets. It's nice to see the guys that I got drafted with and stuff like that, but it just seems like I've already turned the page."
Did Kazmir ever monitor Zambrano's unremarkable Mets career, which included a 10-14 record and 4.42 ERA over 2½ seasons?
"I didn't really try to concern myself about it too much," Kazmir said. "I'm 20 years old in the big leagues. I've got enough to worry about. I was just concentrating on what I had to do."
Because Kazmir was traded while in Double-A, he said the Mets influences on his career have been limited. His minor league teammates included David Wright and Angel Pagan for the latter part of the 2003 season with Class A St. Lucie.
"Going to my first big league spring training was a huge experience for me, even though it was a short stint," Kazmir said "Being able to talk to [John] Franco and Tom Glavine and all of those Hall of Fame pitchers, to just be in the same room or do drills with them and stuff like that, that was a great experience -- just to see how they handled themselves."
Kazmir is 7-7 with a 4.36 ERA in 24 starts for the Indians this season. He received a $1 million base salary, with the opportunity to earn $1.75 million in performance-based incentives.
He believes his mechanics slowly drifted out of whack, prompting the Angels to eventually release him on June 15, 2011, after he posted a 17.02 ERA in five Triple-A starts. His fastball averages 92.4 mph this season, comparable to his days with the Rays, and a full 5.9 mph more than his average fastball velocity in his lone major league appearance with the Angels two years ago.
As for returning to the majors after a nearly two-year absence that included the detour to the Atlantic League, Kazmir said: "There was never really a doubt for me. I always stayed confident the whole time. I went to independent ball knowing there were going to be bumps along the way. I felt like it was the right decision to get out there and get some innings, see some live hitters and to be able to just get my feet wet again after being out for so long."