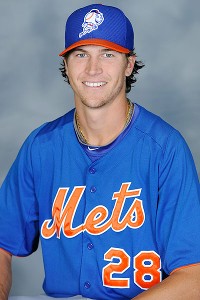 Courtesy of New York Mets
Jacob deGrom
Right-hander Jacob deGrom, who should be competing for a rotation spot along with Rafael Montero during spring training, especially if Matt Harvey undergoes Tommy John surgery, is likely done for 2013, a Mets official said.
DeGrom left his final regular-season start after two innings with shoulder tightness.
The 51s plan to use Giancarlo Alvardo as their starter on Friday night while facing elimination.
DeGrom is due to be added to the 40-man roster this offseason in order to shield him from Rule 5 draft eligibility. He rose all the way from Class A St. Lucie to Las Vegas this season, compiling a combined 7-7 record and 4.51 ERA in 26 starts.
DeGrom, a ninth-round pick in 2010 from Stetson, where he initially was an infielder, had tossed 147 2/3 innings this season and was approaching his cap anyway. DeGrom's fastball sits at 91-94 mph. The sinker is complemented by a slider and a changeup.