FIRST PITCH: And now the rest of the series …
Jonathon Niese (6-6, 3.66 ERA) opposes Cleveland Indians right-hander Corey Kluber (7-5, 3.54) at 6:05 tonight at Progressive Field.
Then it's Daisuke Matsuzaka on Sunday.
Saturday's news reports:
• Scott Kazmir struck out 12 and walked none in six scoreless innings in his first meeting against his original organization and the Indians beat the Mets, 8-1, Friday night. Zack Wheeler struggled with his control and walked five in five innings. Wheeler allowed three runs (two earned). Former Mets reliever Joe Smith also faced the Amazin's for the first time in his career. Smith tossed a scoreless eighth to preserve a three-run lead at that point.
Kazmir downplayed facing the Mets as a motivation.
"The front office, the players, everybody is different over there now," he said, via the Akron Beaon Journal. "It might be different if I was pitching against guys I knew and played with."
He added: "It's great it was against the team that drafted me, but that definitely wasn't crossing through my mind when I was out there on the mound. We're playing for a playoff spot right now. That's the one thing I'm thinking about when I go out to the mound."
Indians manager Terry Francona told the Beacon Journal about Kazmir facing the Mets: "I think he was a little jazzed up. However guys do it, as long as they're not breaking any laws, whatever they use for motivation, I'll take it."
Cleveland moved to within two games of a wild-card spot.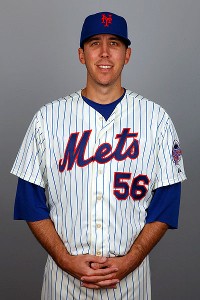 Courtesy of New York Mets
Scott Rice requires surgery for a sports hernia.
Read game recaps in the Post, Daily News, Times, Newsday, Star-Ledger, Record and MLB.com.
• Left-hander Scott Rice, the major league leader in relief appearances, will undergo season-ending surgery for a sports hernia next week. Rice made his major league debut this season at age 31, after toiling in the minors and independent ball since 1999. The issue had bothered him since mid-June. Read more in the Star-Ledger and Newsday.
• The Mets promoted ex-Yankees left-hander Sean Henn to take Rice's spot. Until signing with the Mets in early April, Henn had been home in Texas, figuring his career was over. Read more in the Star-Ledger.
• Behind seven scoreless innings from Long Island native Steven Matz, Savannah advanced to the South Atlantic championship series with a 5-0 win against Augusta. Binghamton was swept by the Trenton Thunder in the Eastern League playoffs and eliminated. Cory Wade recorded the final five outs and Las Vegas forced Game 4 of its Pacific Coast League series with a 3-2 win against Salt Lake. Read the full minor league recap here.
Read more on Binghamton's elimination, and the ejections of Danny Muno, Wilfredo Tovar and manager Pedro Lopez, in the Binghamton Press & Sun-Bulletin.
• Frank Francisco tossed a scoreless ninth inning with two strikeouts as Binghamton was eliminated. Stay tuned for what is next regarding the portly ex-closer. Mets insiders privately have doubted Sandy Alderson would allow Francisco to return to the major league team before the season's end.
• Former Mets farmhand Yusmeiro Petit came within one out of a perfect game for the San Francisco Giants against the Arizona Diamondbacks. Eric Chavez ended the big with a two-out, two-strike hit in the ninth. The pitchers who have thrown no-hitters after playing for the Mets at the major league level and then departing: Nolan Ryan (seven), Tom Seaver, Mike Scott, Dwight Gooden, David Cone, Hideo Nomo and Philip Humber. Petit became the 12th pitcher to lose a perfect game with two outs in the ninth, according to ESPN Stats & Information.
BIRTHDAYS: Jason Isringhausen, who taught Bobby Parnell the knuckle-curve, turns 41. … Former reliever Brian Stokes is 34. .. David Newhan turns 40.
TWEET OF THE DAY:
Thank you to everyone for all the well wishes. Ill be back healthy ready for spring training, It's only 5 months away. #lgm @Mets

— Scott Rice (@ScottRice56) September 7, 2013
YOU'RE UP: Should the Mets pursue Scott Kazmir and/or Joe Smith as free agents this offseason?