NEW YORK -- David Wright flew back to New York on Monday afternoon, still resolved to return to the Mets before the season ends in three weeks.
"I don't think the clock is going to run out," said Wright, who has been on the disabled list since Aug. 3 with a Grade 2 hamstring strain. "I think I'll be back at least for a larger chunk of the remainder of the games. That's kind of the goal, and I haven't really even thought about not playing those."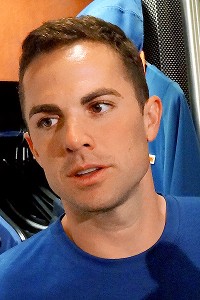 Adam Rubin
David Wright speaks Monday at Citi Field.
Wright said he has done all baseball activities except run the bases. He has done some cutting and arcs while running to prepare for baserunning.
"Running and everything feels good so far," he said.
Wright returned to New York because activity had all but ceased at the Mets' Port St. Lucie, Fla., complex. He originally had traveled to Florida from New York on Aug. 29.
"I think that I'm back here because there was nothing else for me to do in Florida," he said. "There's nobody really down there, and obviously they're a little short-staffed. Hopefully I can stand in on some bullpens here and continue the running program and be back sooner."
Wright said he would not be ready to compete in playoff games with low-A Savannah this week. The Gnats are the lone Mets affiliate still playing minor league ball. If the best-of-five series went the distance, it would end Saturday.
Wright indicated he would not feel right about disrupting a championship series with his presence anyway.
"I haven't even been on the bases yet. I think that would be optimistic," Wright said about even considering playing in minor league games this week. "I'm not sure if that's possible. Plus, they've worked really hard to get to this point. I remember what it was like in the minor leagues. They probably want to try to win their championship -- not have some guy rehabbing."