NEW YORK -- Carlos Torres surrendered four homers. The Mets allowed five long balls as a team. And the Amazin's officially have been eliminated from NL East contention with a 9-0 loss to the Washington Nationals on Monday night at Citi Field.
Oh, and the Mets nearly got no-hit, too.
They finally mustered their lone hit against Gio Gonzalez when pinch hitter Zach Lutz singled down the first-base line to open the bottom of the seventh.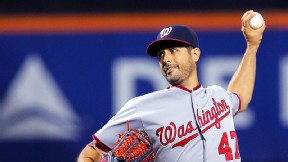 Brad Penner/USA TODAY Sports
Gio Gonzalez pitched a one-hit shutout against the Mets.
Their other baserunners came on Daniel Murphy's one-out walk in the first and Lutz's two-out walk in the ninth. Murphy left the game on a double-switch when Greg Burke entered, with Lutz eventually hitting in that spot.
The Mets have been no-hit six times in franchise history, most recently almost two decades ago to the day, when Darryl Kile did it at the Astrodome on Sept. 8, 1993.
Gonzalez went the distance, requiring 110 pitches. The last one-hit shutout against the Mets came on June 27, 2009 on a combined effort by the Yankees' A.J. Burnett, Brian Bruney and David Robertson. Dontrelle Willis had the last complete-game one-hit shutout of the Mets, on June 16, 2003 with the Marlins.
Torres surrendered consecutive homers to Denard Span and Ryan Zimmerman to open the game. He became the first Mets pitcher to allow homers to the first two opposing batters since Alfonso Soriano and Derek Jeter consecutively took Tom Glavine deep in a Subway Series matchup on June 28, 2003 at Shea Stadium, according to the Elias Sports Bureau.
Jayson Werth and Tyler Moore also homered before Torres departed with the Mets trailing 6-0 after four innings.
The last Mets pitcher to allow four homers in a game? That was Johan Santana on June 8, 2012, against the Yankees.
Burke entered in the fifth inning and surrendered a three-run homer to Wilson Ramos, and the Nats' lead swelled to 9-0.
Washington became the first team -- Mets or visitor -- to homer five times in a game at Citi Field.
Henn in the house: Left-hander Sean Henn made his Mets debut with a scoreless seventh inning that included two walks. It marked his first major league appearance since Sept. 26, 2009, when he was with the Baltimore Orioles.
What's next: Dillon Gee (11-9, 3.53 ERA) opposes right-hander Jordan Zimmermann (16-8, 3.30) at 7:10 p.m. Tuesday.