FIRST PITCH: Matt Harvey has yet to visit Dr. James Andrews for a second opinion about whether he requires Tommy John surgery, but he does plan to speak with media today, team officials say.
Harvey plans to discuss his status as he joins Jeff Wilpon, David Wright and Zack Wheeler for a Manhattan firehouse visit.
Also, Ruben Tejada is expected to join the Mets as soon as today, now that his free-agency eligibility has been delayed until after the 2017 season.
The series continues tonight at Citi Field with Dillon Gee (11-9, 3.53 ERA) opposing right-hander Jordan Zimmermann (16-8, 3.30) at 7:10.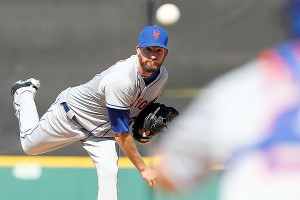 Kim Klement/USA TODAY Sports
Bobby Parnell requires surgery for a herniated disk.
Tuesday's news reports:
• Bobby Parnell requires surgery for a herniated disk in his neck. Parnell "should" be ready for the 2014 season, according to Terry Collins. "I'm not doing the surgery," the manager said. Read more in the Post.
• Carlos Torres surrendered four homers and the Mets did not produce a hit against Gio Gonzalez until Zach Lutz's leadoff single down the first-base line in the seventh as the Nats pounded the Mets, 9-0, Monday.
"I hit it off the end of the bat a little bit and it landed right on the line," Lutz said. "Just some good luck right there. … Gio was just dominating the whole night."
"It's a bittersweet moment," Gonzalez told D.C. reporters. "You're happy you got the win. The team did great. Everybody looked alive today. It's a sad moment when you lose a no-hitter down the line."
Read game recaps from new beat writer Tim Rohan in the Times as well as in The Washington Post, Post, Daily News, Star-Ledger, Record, Newsday and MLB.com.
• Aaron Harang will make his Mets debut Thursday, in the matinee series finale against Washington. That will push Jonathon Niese to Friday, giving him an extra day of rest.
• Wright rejoined the Mets on Monday. He still has yet to run the bases, but again resolved to return before the season ends Sept. 29. Read more in the Post, Star-Ledger, Journal and Newsday.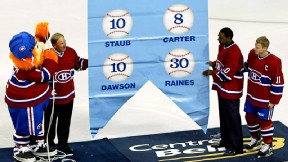 Paul Chiasson/Associated Press/CP
After the Expos left Montreal, the Canadiens raised a banner in October 2005 recognizing the baseball club's retired numbers. Gary Carter was among the attendees.
• The Mets will finish next year's spring training at Olympic Stadium in Montreal with a pair of games against the Toronto Blue Jays. Writes Shi Davidi at sportsnet.ca:
In July in Toronto, a large contingent of Expos fans staged a rally during a Blue Jays game for the second straight year meant to demonstrate the support for baseball in Montreal, and exhibition contests in their own city would serve their cause even more.
Also standing to benefit is the Montreal Baseball Project, fronted by Warren Cromartie, which is conducting a feasibility study on bringing a team back to the city permanently. A strong showing is sure to get noticed among the game's power-brokers.
Read more in the Daily News.
• Mets season ticket holders received notification Monday that prices will remain the same in 2014.
• Savannah lost Game 1 of its best-of-five South Atlantic League championship series, 6-1, at Hagerstown. Jeurys Familia pitched a scoreless inning in his third minor league appearance since surgery to clean out his right elbow. Read the full recap here.
• The Mets may end up trading Ike Davis this offseason, but they have no intention of non-tendering him, team insiders told ESPNNewYork.com.
• Trading Frank Francisco remains a possibility, a team insider told ESPNNewYork.com. Collins says he is not yet comfortable using Francisco on back-to-back days, because the ex-closer had not done that during his rehab assignment.
• Left-hander Scott Rice is due to undergo surgery today in Philadelphia for a sports hernia.
• Davey Johnson, 70, is making his final visit to Queens as Nats manager. Writes columnist George Vecsey in the Times:
Johnson has been around. He was a teammate of Hank Aaron's in Atlanta and Sadaharu Oh's in Tokyo when each of them passed Babe Ruth's career record of 714 home runs. He won three Gold Gloves, hit 43 home runs one season, played in four World Series and was the last out of the 1969 Series, in Shea Stadium, just before the hordes almost tore the place down in ecstasy.
In 1986, he took stock of the talent and close finishes the two previous years.
"I just remember him saying we were going to win the World Series," said Keith Hernandez, now a Mets broadcaster, and an admirer of Johnson. "I thought, 'O.K.' That was something I wouldn't have done, but he put the challenge out there."
Read more in the Record.
• From the bloggers … Faith and Fear in Flushing explores the September of the Metropolitan soul.
BIRTHDAYS: Outfielder Andrew Brown turns 29.
TWEET OF THE DAY:
So first new discovery... take the express 7 train rather than the local. Hitting every stop is slightly annoying #newguy

— Victor Black (@Vic_Black_2) September 9, 2013
YOU'RE UP: Are you concerned about Bobby Parnell's availability early in 2014?