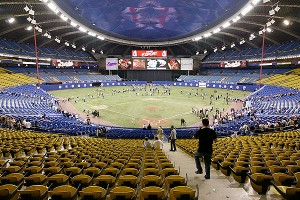 David Boily/MLB Photos/Getty Images
Olympic Stadium in Montreal was home of the Expos through 2004.
NEW YORK -- The Toronto Blue Jays officially have announced a pair of exhibition games at Olympic Stadium in Montreal against the Mets. The games will be played at the former home of the Expos on March 28 and 29.
The Mets then will have an off-day before opening the season on March 31 against the Washington Nationals at Citi Field.
The Jays benefit by expanding their fan base in Canada. And Montreal is trying to demonstrate it is worthy of getting a relocating MLB team.
The Expos moved to Washington for the 2005 season and became the Nationals.